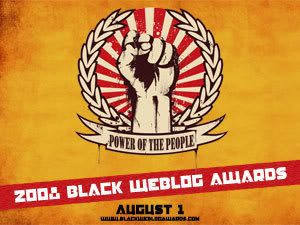 If you could be so kind to nominate for the following, our bond will be as strong as Wayne's gripe on his cup, our love will go deeper than Mariah's issues, and…hell, you see where I'm going right?
Best Blog Design
This category is for blogs that incorporate a unique and eye-catching visual web design. Blog designs must NOT be templates, but fully custom-coded and designed sites.
Best Writing in a Blog
This category is for blogs which have exceptional writing. This category is judged not on a single post basis, but on the overall posts of the blog.
Best Humor Blog
This category is for humor blogs or blogs which feature humorous content.
Blog to Watch
This category highlights the best "undiscovered" blog in the blogosphere; keep your eye on this one! This is for that great blog that not everyone knows about…but should!
And if you're just discovering this blog, go here, here, and here. Oh here, here, and here, too. Thank you kindly.
But more importantly, go HERE to nominate.