Disclaimer: Damn those are a lot of commercials for a 60 second clip. The recession is real, ya'll.
Artists like to use magazines as a way of generating interest in them and their looming projects by way of some controversial cover and/or article. However, whenever such attention grabbing stunt backfires, the artist in turn likes to place the blame on the publication that they themselves usually seek out first. Ciara seems to be no different from other backsliders.
The caption is "Stand Up! Ciara," the cover story is entitled "The Fantasy Unfolds," and the quote is "I'm not gonna hold back too much." Looking at the shoes, her open mouth, and where her hands are placed I can't imagine what a thong and a bra (if actually worn) would have done to deter this very suggestive pose and the obvious theme of the article.
It gets better.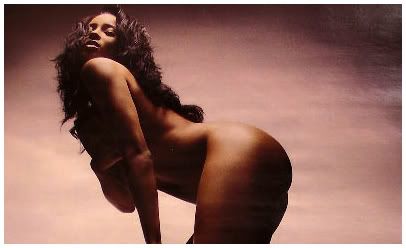 So muscle butt is saying these "artistic" photos of her bent over in size 24 stilletos are tainted because VIBE allegedly airbrushed her draws off in the cover (in a pose you wouldn't be able to see them anyway).
Who is she supposed to be fooling?
Judging from her previous comments, she knew what the deal was and seemed excited about it. Ciara went to a magazine that had Moesha on all fours to be artistic. Right, and strippers get tipped extra for ballet lessons.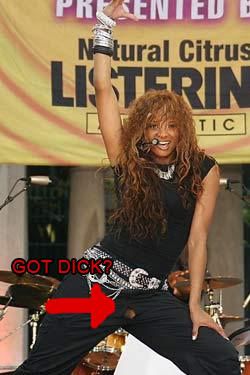 Ciara got naked for two reasons.
1. To prove that she wasn't born Carl.
2. Ass gets attention.
If you're going to be naked, but equally as nude about your thought process.
She's not going to sue VIBE not because she's over it but because a judge would likely drop the suit right on her Harry and the Hendersons sized feet. Ciara is not a victim and I'm not sure how good an idea it is to cause strife between you and one of the few magazines willing to put you on their cover.
When Ciara dropped "Goodies" despite the beat being a rehash of "Yeah" and "Freak-A-Leek" the lyrics made her somewhat of anamoly in that it had somewhat of a virginal quality to it. Then she decided to be like everyone else.
One minute she's in Hammer pants, the next she's found Aaliyah's old clothes, soon after she snatches Rihanna's old stylist, and now she's not into wearing clothes at all as she goes for Janet Jackson-like career defining magazine covers.
Her music is cool (well, not that second album) and she's a great performer, but she seems like someone who doesn't know who they want to be and is willing to do whatever and become whoever she thinks will get her success. That's fine, if you're into people with an identity crisis, but it makes a person look wack to me.
The pictures are nice albeit a bit desperate and won't generate album sales (people will right click save, not right click purchase), though I'm almost certain if she just spent more time performing and working on her new material (which so far sounds promising), she would likely get all the attention she desires.
Everybody wants to be like everyone else, and then when they catch heat for something, folks want to pull back and blame everyone but themselves.
Ciara, you've already shown your ass. No sense in trying to cover it up now.