I try to keep my knowledge of crooked pastors to a minimum, so I've never heard of Baltimore's own Jamal Bryant. But after a quick chat with a friend and a read over at the Baltimore Sun I've learned Pastor Jamal has baby mama drama (with members of his congregation), a highly contested divorce, and a flock of 10,000 who help him earn [at least] $350,000 a year and maintain a multi-million dollar waterfront property.
I imagine his mounting wealth can be attributed to securing the checking account numbers of church goers who now look to God as their financial planner and church as Match.com. But, c'mon nah. You mean to tell me they can't even see through this?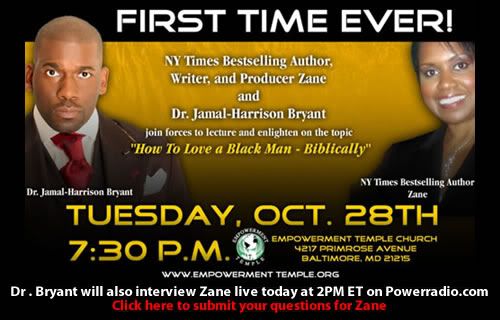 A sex writer and a pastor join forces to exploit lonely Black women, and no one has publicly called out the idea of an erotica writer sitting down with a pastor to talk about Biblical love? How gullible do you have to be to believe fall for this? Wait, who am I kidding. I'll see a DVD of this on MLK in no time.
Ya'll have fun with that. "How To Love A Black Man Bibilically" looks more like a summit on how to burn in hell. Different strokes (literally), though.