Dallas, I'm grateful for the buffoonery and jigs you have provided me over the last year and a half, but ya'll have officially lost me — that is, until you come up with another dance in about six hours.
When someone told me via Twitter (shameless plug time: follow me) that there was a dance named after Keyshia Cole's mama I anticipated something ignorant yet danceable. Unfortunately, this dance comes a little too close to how a crack head would operate.
Wait, no saying that is disrespectful to all of the crackheads I used to see get it on Georgia Avenue.
Ya'll don't understand: I really wanted to like it despite no longer being all that great a fan of Franky (I thought it was spelled "Frankie," which sounds better to me, but whatever) herself. But this looks really ridiculous. For a second I wasn't even sure if this dance was really a homage to Franky whatever her last name is.
This is me after viewing dude in the front and the rest of the members of Day 26 show off the Franky: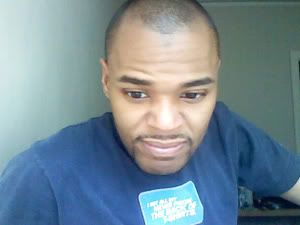 That is not how I normally react to ign't southern dances. What's going on, Dallas? Are kids out there reading all of a sudden and now find themselves too busy to dance?
Like Kiki77868, I thought:
i am liking dis song but who da hell is franky

is they talking bout keyshia cole mama, frankie lymons, somebody from they crew…i just need to know who da hell is franky
Because clearly drop it the flo', pick it back up, vibrate ya hips make a n—- wanna… would not dance to this. Not even after her eleventh glass of Hennessy. To tell you the truth, I don't like the song that much either.
Thankfully, Fresh shared a new video that's officially my song for April:
Now isn't that much better? This is exactly why Crunk + Disorderly is my very own Huffington Post.
I know some of you will never understand my love for bird calls and hoodrat anthems, but mark my words: They're not dying.
Proof is below:
Even Halle Berry is doing the Halle Berry. See why I blog about this stuff now?
C'mon Dallas, I usually talk slick (I'm from Houston, you understand), but lately the Dallas boogie has been on it. Do better.
Sidenote: Ellen is one of my favorite people in the world. Who knew she keeps up with the hood dances?