If you actually think there's a disco stick waiting to be freed from the duck tape that acts its personal prison between the legs of Lady GaGa, then you're likely the type of fool to fall for a Nigerian email scam.
This woman is not a hermaphrodite, but what she is an artist skilled in the art of manipulating the press. It's a talent that seems to have been lost on a generation. I honestly can't think of any other popular female artist besides GaGa that's been adept at playing the press on the levels of Madonna and Janet Jackson.
I'm sure their stans would love to argue that like Britney and Christina fit the bill, but: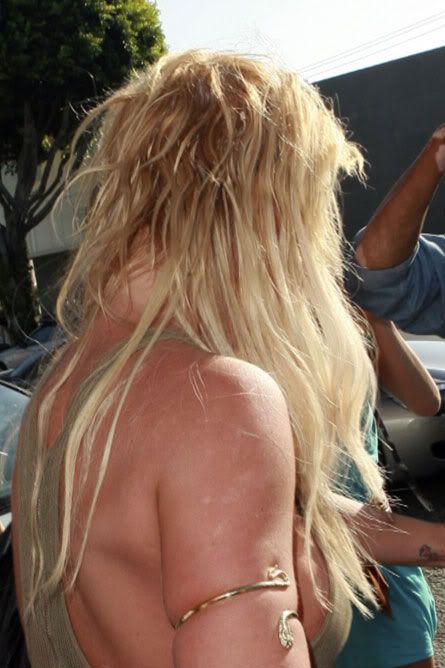 I swore when someone sent this picture to me I thought it was Bret Michaels. I was so ready to respond with, "I don't care about Rock of Love."
As it turns out, that's Britney Spears, which proves my point.
This poor girl, between her family, the pressure, and the lack of K-12 tutoring never stood a chance. Life and the media jumped her and while she may be off most of her meds, she's not at the level she used to be.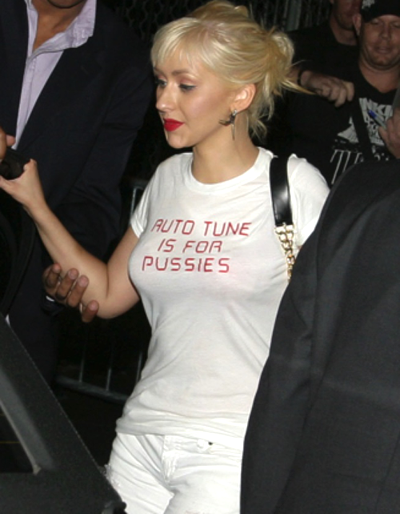 Then you have Christina Aguilera, who thought she was ahead of the game giving her best Madonna impersonation to the press, but poor thing, Autotune may be for pussies, but look what flinging hers got you?
That's why I don't think either can be lumped into that media savvy category. Both have their talents, and each got as close to that level of celebrity as the aforementioned acts. Yet as far as outwitting the press, nah, not even a little bit.
Unlike the others, although I think GaGa has a gimmick I feel that it's one of her own creation.
I don't suspect there is a team of handlers around her pulling strings. If that were to be true, she probably wouldn't be a star. You've seen the charts. Many of the industry folks couldn't get you to buy an album with their money.
Not to rile up the older crowd, but GaGa, with her bisexual confirmations, outrageous outfits, and over-the-top sound bites and quotes is giving vintage Madonna. Only difference is these days it's harder to shock people, so the most a person can do is start a rumor that the woman has an 8-ball and pool stick carefully tucked in her leotard.
On top of that, she is actually talented. She can sing, play instruments, and when she claims to be a songwriter I believe her.
It's not, "Oh I used my star power to force a songwriter to give me publishing." Or an instance of someone taking a pre-written song and adding a cough at the end of the track and getting credit for it. She actually writes.
Finally there is a pop star with a brain and actual skill who can joke the journalists
Every so often a new reader asks, "Do you like anyone?"
Instead of giving my usual, "No, actually I hate everyone – especially you," I smiled and said, "You'll see."
And now you do.
Don't trip, though: Until she records a song with Gucci Mane she'll only go so hard.