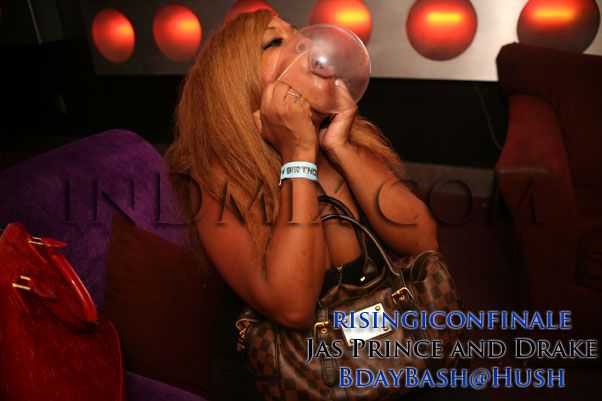 In I don't want to call you a name, but…news please check out your cousin who's likely having the best week ever because she partied with Captain Caveman (from this day forward that is Drake's new nickname 'round here) and got photographed performing a trick.
This girl could be somebody's mama, somebody's church usher, somebody's favorite client at the beauty shop. Good for her, but that doesn't change the fact that she looks the fool for clowning with a condom. Clearly, she's a blowing behemoth so while I'm not going to throw shade at the  lips women with that hair color naturally pay for, I will say something about this picture doesn't sit right by me.
Why would you blow a condom like a balloon? Why would you be photographed doing it?
No, really, why would you do any of that?
This picture was taken in Houston, so as I native I take full responsibility for this and her hair color, which some people like my friend, Whitney, swear is a Houston staple (although I might buy my mama her first weave — a jet black Malaysian ponytail for Christmas).
In all seriousness, Black folks comprise just 12 percent of the U.S. population but account for 46 percent of the country's citizens living with HIV. And there's new research that says Black females continue to have a higher rate of sexually transmitted diseases (STDs) than any other racial or ethnic group.
And FYI:
Gonorrhea rates among blacks were higher than any other racial or ethnic group and 20 times higher than among whites. While blacks represent 12 percent of the U.S. population, they accounted for about 71 percent of reported gonorrhea cases, 48 percent of chlamydia cases, and 49 percent of syphilis cases.
Black females aged 15 to 19 had the highest rates of chlamydia and gonorrhea (10,513 per 100,000 and 2,934 per 100,000, respectively), followed by black women aged 20 to 24 (9,373 per 100,000 and 2,770 per 100,000, respectively).
I started itching just reading that.
So my point is that picture may have been made in jest, but at the very least, I wish someone would have added a caption like, "If you're going to put a condom around your mouth…make sure a penis is attached to it. Safe sex!"
Or something pro safe-sex, you know. You see how I'm matching wit with informative prose, right? They can do it, too.
So many people are getting knocked up, setting toilet bowls on fire, and making their bodies go "bump, bump, bump." It's disturbing and we have to start being a bit more proactive and honest about sex ed.
OK, that's my PSA for day. If you'll excuse me, I have to go watch the video for "Video Phone" again.