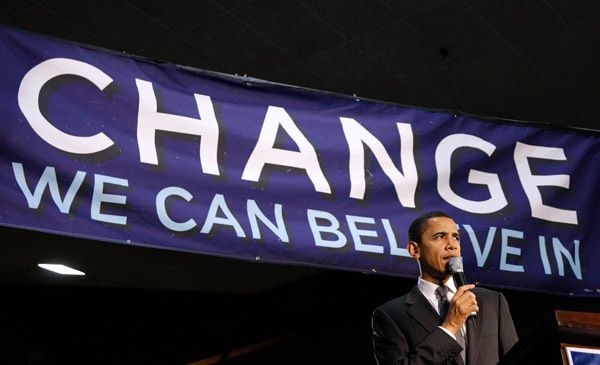 Speaking ill of President Obama is a good way to get cursed out by your favorite auntie, but in reviewing his first year in office I believe one can't help but note some of the obvious disappointments.
So, in a new piece for AOL's Sphere, I did just that. Moreover, I pointed to how said disappointments affect Obama's stock with the youth population — who invigorated his campaign and had much to do with his decisive win.
Will young people randomly switch to the GOP in 2012? That's about as likely as me fathering Bristol Palin's second child, but will they come out in full force the way we did in 2008 is the question.
Back in February 2008, I wrote an entry entitled "I Hope He Can" in which I broke from cynicism and fell into a bit of the hype. Another, "Seeing Is Believing," where I recalled my experience at an Obama really points to my obvious enthusiasm about Barack (particularly after reading his first book, Dreams of My Father).
Do I still like him? Yes. Is there reason to criticize him only after a year in office? I think so, which is why I invite you to read "I Hope He Can" and then compare it to the new piece.
Click here to read "Enough Change To Believe?"
There is some things I left out, namely his record on civil liberties. If you'd like to read more about that, check out the ALCU's assessment of President Obama's first year in office.