I never get why people insist on repeating every year that the Grammy Awards are boring. That information is about as new as the second letter of the alphabet. Having said that, for a show known for putting people with attention-deficit hyperactive disorder into a mental coma I'd say this year's Grammys wasn't all that bad.
Interesting enough to get me to break down the three or 15 hour broadcast? Not even, but I can break it down in ten.
And we're off:
1. Beyonce is everything, deal with it.
Truthfully, I would have never guessed "Single Ladies (Put A Ring On It)" would net a songwriting award let alone the biggest one of the night. But it did, which just goes to show you how effective both a video and a catchy hook can be. And that Beyonce is respected.
As far as Beyonce's performance goes, she sounded great and I appreciate her hiring Blackwater troops to back her up for the performance. Better them in LA than Iraq. I'm a bit surprised she worked in the Alanis Morrisette cover from her tour into the act, but she can do whatever she wants. She obviously wants to sing angrier songs sometimes. Why didn't ya'll let "Ring The Alarm" be great?
I get a lot of flak from the more sanity-deficient members of B-Unit for not drinking her bath water all the time, but I'm elated the girl scored Best Pop Vocal Category (quite the cue for a black girl) and made Grammy history last night with her six wins.
I know Beyonce still seems to bring out the insecure high school girl in many people, but if the thought of Beyonce winning so much pisses you off to that great extent, grab an ice tray and hit yourself with it.
…now cool off, cool off.
2. Pink and her husband are jackasses.
Here's Mr. Pink on how to properly convey that you're jealous and bitter:
The demanding stunt did not impede her singing, she said, adding, "No one ever has another excuse to lip-sync."

With her tour over, Pink said, "I'm going to go home and cook and get fat."

Hubby Carey Hart, meanwhile was quick to chime in with a few words of support via Twitter. "Though Pink wasn't the big winner tonight, she stole the f*ckin' show! 150 dancers don't compare to her alone on the stage. Ask the crowd."

He later added: "Pink, you were amazing, and EVERYONE knows it. No gimmicks [sic], just talent. I love you baby."
I prefer Pink when she was singing Linda Perry's life story, but she obviously still knows how to churn out a hit. That said, while I appreciate her trying to be different than her peers I hate the condescending attitude she has towards them.
For her and her husband's information, giving yourself a bath in a leotard before you swing around an arena like an extra from Cirque du Soleil is just as gimmicky as hiring a bunch of background people for your performance.
Not to mention her incessant need to remind us that she's completely antithetical to the cookie cutter pop stars of the world makes her seem just as contrived as the people she constantly lashes out at.
From Britney Spears calling her out for sending her flowers one day and thrashing her the very next years back to the way she made it seem as though Kanye West skinned her damned puppy with his bare hands in front of her – Pink can be really bitchy at times.
She sounded good last night and her performance was fine, but just so we're clear Beyonce sings circles around Pink. Homecoming is over, Pink. You lost. Accept it and move on.
3. It was good to see Rihanna on stage accepting an award.
Last year was Rihanna's year and it's sad it was taken away from her. Fortunately, while this year wasn't as big for her as last year it was good to see her back a year later in good spirits.
See how nice I sound? And I bet you were expecting me to throw an eclipse her way.
4.  Michael Jackson Can Outsing You Dead
The tribute was nice and Carrie Underwood and Jennifer Hudson sounded lovely, but that performance reminded me of just how good a vocalist Michael was. I was never a huge fan of "Earth Song," but he sounds amazing on it. Bless Usher's heart for trying to hit those high notes.
When he got down to the ground as if he was doing something in my mind I imagined that was simply Michael kicking him.
I still felt it, though.
5. Leave Disabled People Alone
I am still confused by Jamie Foxx's performance last night, but I do know talking about people with disabilities is not the business. It's actually a good way to get a stamp and wrist band for the VIP section of Club Eighth Circle. That's the hottest spot in Downtown Hell for those who aren't up on game.
6. I Appreciate Country Music Artists
They provide great bathroom breaks.
7. The Grammys still don't respect hip-hop.
No offense to Stephen Colbert, whom I love, but best comedy album can be presented on-air (which is very rare), but best rap album can't?
As for Drake/Eminem/Lil' Wayne's performance, it could best be described with three words: Beep, beep, beep.
Damn, FCC. Why so serious?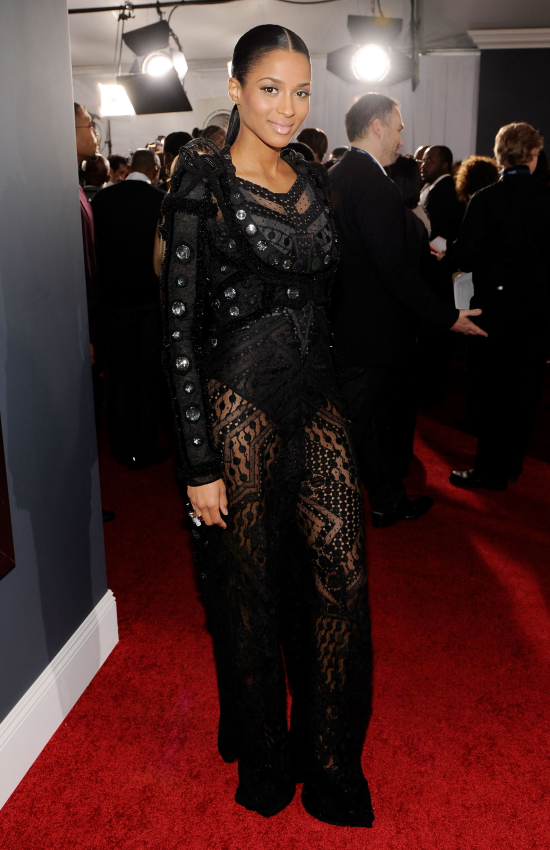 8. Ciara is relentless.
I see this girl will not rest until everyone calls her a fashion icon and sex symbol. Can someone hurry up and tell a white lie so she can go back to doing what made her popular?
9. Lady GaGa was wronged.
Not robbed because she did kick off the show with her long lost aunt and did win two hours, but I didn't like the fact that GaGa didn't accept an award on television. She was a main draw to the show so I think it made sense for them to make sure she'd get a chance to win something while the show was airing. They've done it countless times in recent years so why not do it for her?
Sidenote: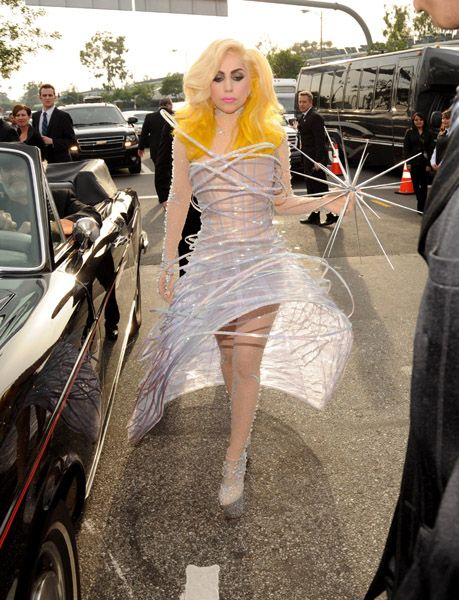 I loved her showing up to the show as Judy Jetson. Look and learn, Ciara.
10. Taylor Swift wants your award…and will get it.
How in the hell did she win Album of the Year? Better yet, how sad is it that they kick off the presentation of the award noting that ten years prior Carlos Santana won the same award ten years prior before handing it to Taylor Swift?
That girl is nice (although I'm over the whole "I'm so shocked I'm still winning every damn award" thing), but I'm just surprised that she's managed to become as much a critical success as a commercial one.
Before you even say it again, I don't think Kanye has much to do with it. Yes, he got a large percentage of black people to learn her name and the sympathy of people with every other hue, but she was already slaying the competition in sales so that can't be it.
You all are so fixated on Beyonce, Jay-Z, and Rihanna kicking it with the demon down under that you might have missed out on the real conspiracy.