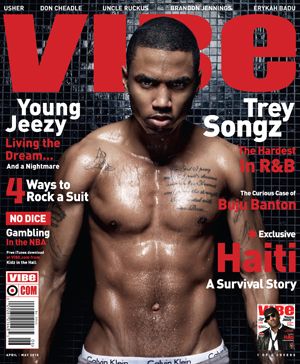 1. Does he know he'd be perfect if he shaved that Afro around his belly button?
2. Speaking of Trey Songz, can he dead this beef with R. Kelly and leap off his dick before it pisses on him?
3. When will these male athletes learn to send messages to their sideline pieces by bird messengers?
4. Where are all of these random talent-deficient black male pop one hit wonders coming from?
5. April Fool's?
6. Is this your brain on drugs?
7. Are they booing Miss Keri Baby?
8. Is leaking a picture of your dick a requirement in College Hill contracts?
9. Before I try to start an arts and crafts project, this is not OK, right?
10. Can someone inform their area hood Chinese spot that there ain't nothing like the real thing?
11. Are you really a sex addict or just a hoe?
12. Is pinkie an innie or an outtie?
13. Bow Wow made a sexually-themed Auto-Tune cover of "Window Seat." Why won't he accept his status at the new Kriss Kross and become another Will Smith already?
14. Can we wait for For Colored Girls to actually be released (or even filmed, for that matter) before we rip it shreds?
15. Is the video for "Put It In A Love Song" ever coming out?
16. Are we taking Toya Carter seriously as a rapper?
17. If you're going to call someone a socialist, shouldn't you be able to spell it?
18. Even though most people could've guessed Ricky Martin might be gay, wouldn't it have been nice to let him have his moment without the sarcasm and stereotypes?
19. Now that we've laughed, sighed, and said a prayer inside on her behalf, can we seen Kat Stacks to irrelevant island?
20. Is "groupthink" the new term to be beaten to death?