1. Is Keys supposed to be hip-hop's answer to Yolanda Saldivar?
2. How does one insult another for being a slut and then pose with Lil' Kim while rocking the Sonny Bono?
3. Is it me or is Ciara really coming back with the heat?
4. Why can't Britney Spears of all people get a good sew in?
5. How long before Chris Hansen rolls up on the people jocking Lil' Romeo?
6. Wouldn't it be best for Whitney Houston to sit down until she can get a sizable fracture of her vocal talent back?
7. Isn't it way too easy to figure out when a reality show sidekick is doing the most on-air for a spin-off?
8. Where is the video for Monica's second single?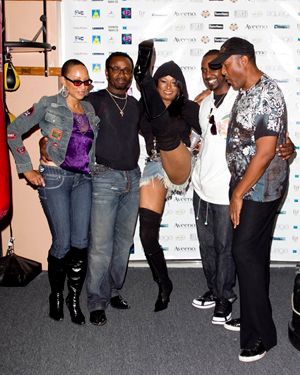 9. Can your 60-year-old granny throw her legs back like that?
10. Can Queen Latifah take a break from romantic comedies and give us a good action film?
11. Who else has never watched Twilight?
12. Why won't Chris Brown let Chris Brown be great?
13. Will Miley Cyrus sit her little hot ass down until she's at least 18?
14. Is there anything lamer than adding a check to your Twitter name to fake verified status?
15. Shouldn't the first play date between Mashonda and Alicia Keys' kids be recorded?
16. Has it ever seen odd to you that people who live cities with rats the size of LeBron James have the nerve to utter the phrase, "Dirty South?"
17. Can someone give homegirl something to do?
18. Why do people keep killing celebrities on Twitter?
19. When will folks stop acting like Drake is giving hip-hop estrogen shots?
Disclaimer: The last question is not safe for work.
20. You straight people won't let gay people keep anything, huh?