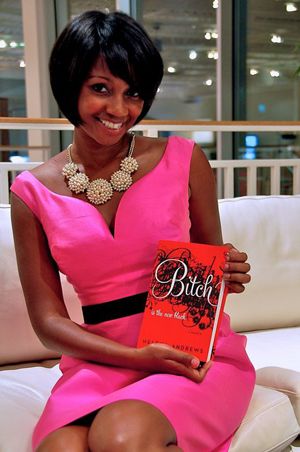 I can understand why some may have been initially put off by the book, Bitch Is The New Black, based on the introduction via the Washington Post profile of its author, Helena Andrews.
I remember the morning that article was published and various women collectively hissed and rolled their eyes at the idea of a book being released about the plight of the single black woman.
Though, I don't believe the article was that damning, I do understand why some felt a certain way.
Over the last year (at least) there's been an increasing amount of attention towards figuring out what's "wrong" with black women and "why" they're single. And "experts" – like a comedian twice divorced, an actor with an Ivy League degree, a novelist – have all released works and done press telling black women what to do.
Act like a man. Date a white man. Or, whatever the others have told ya'll to do.
It must be maddening to hear this trite narrative repeatedly.
No wonder why some saw a headline that included the phrase "lonely black women" and sharply dismissed Bitch Is The New Black with, "Bitch please!"
Those that did, though, are certainly missing out.
For those fortunate enough to have actually read the book, you realize quickly into the first few chapters that the Post profile offered a limited view of a multi-faceted memoir.
Before I continue I should state that I sort of but not completely know Helena.
I knew her byline from sites like Politico and TheRoot.com.
After I read her profile, I received an email that we both just so happened to be CC'd on. I took that as an opportunity to e-introduce myself. She's been a welcome addition to my Gchat ever since.
I hope that doesn't sound as corny as it reads. That would be unfortunate.
In any event, let's move on to my main point: I liked Helena's work before that email and I liked her after having conversations with her. I really wanted to like her book and it's good to know I didn't have to force myself to.
She brings smiles on her own merit.
One of the few reviews of the book that stick out to me was the one published on The Black Snob.
Though the review itself was well written, I don't agree with the overall assessment.
It seems the writer made the same mistake as the person who profiled her in December.
Where as the Post reporter focused on Helena being a single woman, the blogger behind The Black Snob – despite being a bit more evenhanded in her write-up – seems stuck on her seemingly being a bitch.
The same can be said of commentators on the site, who collectively gripe about Helena being "bitter" and "angry."
Based on what I read I wouldn't attribute any of those labels to her.
I find Helena's memoir to be witty, well-written, and a welcome departure from much of the tone and subject matter from we've received from black writers in recent years.
Her wit, snark, and youthful exuberance are refreshing. This book has several laugh out loud moments. The first few chapters provide the largest share of them, but do look out for the later chapter where Helena finds her inner Planters and lets her boss know what a horrible employer she was shortly after firing her.
It's one of many examples of why I believe Bitch has the potential to translate extremely well on film.
Honestly, I haven't enjoyed a collection of essays this much since Lisa Jones' Bulletproof Diva or Angela Nissel's The Broke Diaries.
There are elements of sadness there – particularly when she speaks of her almost-but-not-quite boyfriend, Dex, her abortion, her friend's suicide, along with bearing witness to a violent fight between her mother and her girlfriend as a young child.
Those topics add layers of depth to both the book and its author – making it even more annoying that Bitch Is The New Black was initially dismissed as some diatribe about a lonely black chick whose heart is as cold as her vagina.
That's not what this book is and I take comfort in knowing more and more readers are finding that out.
At a time when black authors are writing about the book industry treating black writers as if our stories aren't as marketable to greater audiences as our white peers, I hope books like Bitch Is The New Black can prove what a crock of shit that is (no, I didn't want to say that more eloquently).
If nothing else, it further motivates me to get my own book together to help join that fight.
I encourage you to gon' head and buy the book at a bookstore, online retailer (no, not half.com, save that for an old book) or wherever saddity e-books are sold.
She's not angry nor does she seem lonely – and I doubt you will be disappointed.
P.S. I stole that picture from Facebook because I found it pretty. Shallow is the New Love.