Given last week's updates or lack thereof (insert shade here), I'm thinking about bringing back "The Week In 10" — a very short-lived feature on the blog where I sum up various events of the week in – aha – 10. That way, I can continue to train to become a stripper.
To that end, here we go ya'll:
1. I'm super glad that G.I. T.I. has gotten out of jail and will likely go on to capture numerous monster hits at radio as if he never left, but I have to say I long for the days when his twang was a lot countrier and his talk a lot tougher.
I don't mind the singsongy rapper in theory (see Drake review), but when did every emcee decide to become Ja Rule? I know each time Rule turns on the radio he has to belt out a, "Ain't this 'bout a bitch?!"
These whiny, materialistic boo thang anthems irk the hell out of me.
As for Keri Hilson, she is the R&B female singer equivalent to a lil' dick overcompensating man.
She tries so hard. Less is more. Bless her heart.
2."Less is more" is certainly the logic applied in the planning of Nicki Minaj's video for "Your Love." After the massive flop of "Massive Attack" I can see why Bird would rather spend less of the money he allegedly takes from producers on its followup.
It's a very fiscally responsible video, but when a song you did for the hell out of it two years ago becomes a radio fixture all its own, why bother with a heavy budget?
As for the video itself, uh, it's OK. It illustrates why I believe Nicki Minaj isn't as great a Lil' Kim ripoff as some would make her out to be. To me, she often looks more like she ought to be breakdancing behind Gwen Stefani. That point reads as even more credible to me now that she's taking cues from Jaden Smith.
Honestly, while Nicki looks absolutely beautiful (shout out to her make up team), "Your Love" reminds me of why I quit karate after getting my blue belt — the shit is boring unless you're fighting.
Speaking of fighting, I'm sure Lil' Kim gave a Rick Ross inspired "Hallejuah" after watching her die on screen. Don't get too happy, girl — that death scene is Nicki's way of paying homage to the state of your career.
Oh yeah, bitch. I remember that! I remember that, I'm not going to forget it! Because at the end of the day, how dare you disrespect me or any other female that's been in this industry for so long. She's the same 'doggone' age as us. Stop it! You coming in the game at 30 years old, don't even freakin' go there, don't go there."
3. Keeping Kim in mind, I had no idea she gave an interview to AOL Black Voices in which she still talks about her one-sided feud with Nicki Minaj until I saw it passed around on blogs.
Can someone tell this girl to get a damn life? On a positive Kim note, it's nice to find out she and Eve have patched things up. At this stage in their respective rap careers, they both need all the support they can get.
4. Of course no matter how bad Kim gets at least she can say that she's not Foxy Brown. There was a day when I longed for Foxy to drop Ill Na Na 2: The Fever. Now I just want her to drop the bullshit and get a prescription. Simpleness does have an expiration date, people. Don't let anyone tell you any different.
5. The fact that Rachel Maddow can better articulate the Obama administration's accomplishments better than the Obama administration is a problem. Last week the Wall Street Reform bill passed. While not as stringent as many with souls would like, it is an accomplishment among an litany of them. Yet, what did we all talk about last week? Shirley Sherrod.
The Obama administration needs to learn how to set the narrative and to stop falling into obvious traps led by the propaganda parade that is the Fox News network. Apologize to Ms. Shirley, give her her job back, and make a quick but poignant point about race in a press conference. Then use the opportunity to tout what you've done in order to prevent this doomsday scenario about the mid-term elections largely created in their own minds.
Duh.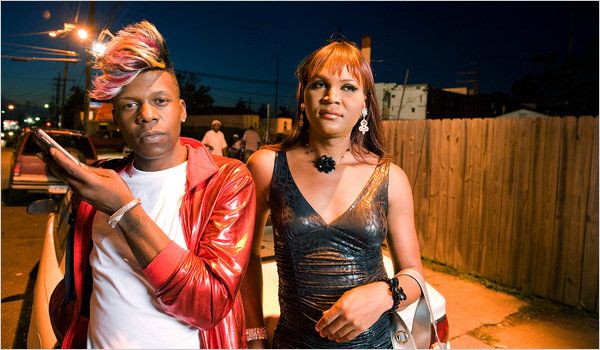 6. Although not made in New Orleans, I'm well aware of bounce music as evidence by my numerous posts and reference. That's because more times than not in Houston, the names Sissy Nobby, Katey Red, Magnolia Shorty are just as noteworthy among a certain faction of the Houston population (same sexers and those who support them and their ratchet cousins). I know enough about the culture to know it's not something I would ever expect to read in the New York Times.
But, with the aftermath of Katrina came a renewed interest in everything New Orleans — including bounce music.
In "Sissy Bounce, New Orleans Gender-Bending Rap," writer Jonathan Dee gives this sub-genre of hip-hop probably it's biggest mainstream coverage ever.
Some would argue it doesn't deserve that attention and I would encourage this people to run into a wall. Hip-hop has always been hypermasculine but for two decades there have been people – gay men and transgendered women – making music on their own terms with their own respective fan bases throughout the South. That is impressive and quite the anamoly — whether you want to admit it or not.
This all makes me wonder: Can Maureen Dowd wobble?
And how soon before Katie Couric jigs, gets it big to Magnolia Shorty's "That's My Juvie." Or maybe she prefers the earlier classics like "Monkey On That Dick."
I adore all of these songs, by the way.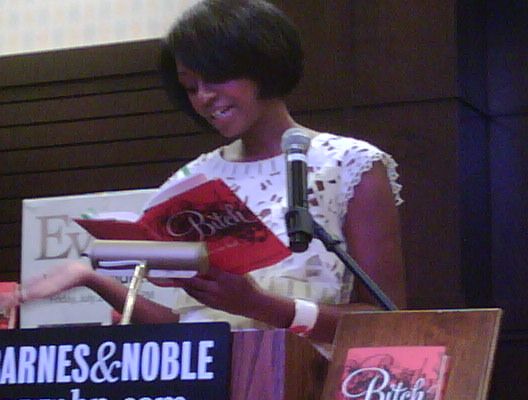 7. Went to Helena Andrews' book signing in LA. If you haven't read my review (you need to) basically I love the picture and I adore her. It's smart, it's funny, it's insightful and personal — everything I want my own book to be. I read David Sedaris, and I know black writers are capable of writing humor essays with the likes of him and Sloane Crosley. Helena is proving it with her memoir. I pray and am actively working to join her. Buy the book.
P.S. If you're wondering yes, I have developed a girl crush. I loves me a pretty woman. How gay is that?
8. Last week I tweeted, "Rick Ross lies so much I have to wonder if even his man boobs are real." Yeah, so he does but his new album is dope. I would appreciate him more if he made it known that he's quite an embellisher. But then he would be Lady GaGa and I guess rap's not ready for that.
9. Christina Milian was treated the same way The-Dream seems to treat every woman in his life — as if she were nothing. The-Dream comes across as the kind of guy who grew up not getting the attention he wanted and as a result, spends much of his adulthood overcompensating and trying to make up for lost time. He said he left Nivea because she wasn't hot anymore. He filed for divorce from Christina nine days before she gave birth only to allegedly still have sex with her and discuss their relationship publicly before openly cheating on her.
And he wants us to feel like he's the victim. On top of it all, it's now reported that he had Christina sign a divorce settlement that waived her claims for alimony while she laid on bed rest.
What a nightmare of a man. Christina, I think you knew what you were getting into (sorry, baby, your reputation precedes you), however no one should be treated that way. You'll get out of that agreement and into his pockets. Meanwhile, The-Dream is a great reminder of why one should believe in karma.
Also, ladies, never date a man that looks like a Teddy Graham.
10. Last and least, Christina Aguilera premiered a new video for a song that's already failing at radio. I don't know about ya'll, but she had already lost me six years ago.
Bonus: Saw Salt. Saw Inception. Both entertaining. One was too short (in terms of fleshing out the storyline), the other a little too melodramatic at certain points. Still, I liked. The only dream I had as a result of back-to-back movie night was revisiting a time period when ticket prices were cheaper.
Until next time, ya'll.