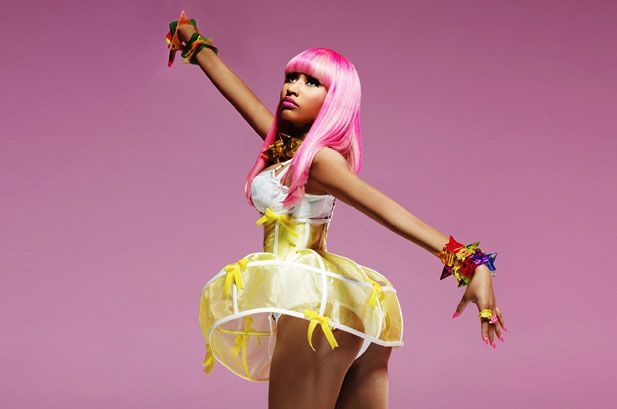 My initial reaction to Pink Friday mirrored that of my second impression of the artist behind it.
The first was far milder. I discovered her by way of blogger, Kid Fury, who posted a video of Nicki Minaj's "Tha Jumpoff 2007" on his site.
At that period of Nicki's still very early career, the comparisons to Lil' Kim were far more credible. It was clear the Queen Bee turned bitter pill influenced young Nick. That didn't make her a bad rapper, but if you grew up under the original wave of Lil' Kim and Foxy Brown there might not have been very little incentive to get you to care about what looked like their sequel.
Two years later, with her theatrics, multiple voices, and sleeker look Nicki Minaj left you no choice but to be somewhat curious and feel some way about her once she finished her part of BET's Cipher at the 2009 BET Hip Hop Awards.
Many would prove later themselves to get lost in the colored wigs, but Nicki's performance in the cipher suggested that she was now more intrigued with the character driven delivery of emcees like Busta Rhymes, ODB, and Ludacris than the overly sexual female rappers she first compared to.
I still dismissed her and her shtick as a bit obnoxious, but as she became increasingly unavoidable I decided to look past my initial grievances and biases about female rappers and give and her music another chance.
I'm glad I did so because it didn't take long for me to fall in love with the very things that previously irked me.
And while I may not exactly be in love with Pink Friday, I'm far more receptive to it now than I was the few hours following my first listen.
My earliest impressions of the album were as follows: "What in the hell is this and why isn't it what I thought it would be?"
What I wanted was an actual rap album – one that would return me to the days when female rappers were more prevalent and far more popular.
Based on Nicki Minaj's last year (at least) of scene stealing cameos – most notably on Kanye West's "Monster" where she arguably bested both 'Ye and Jay-Z (Rick Ross was a given) – I know she is capable of delivering that type of project.
I'm sure Nicki knows this, too, only she decided to go a bit left and go straight pop on her long awaited opportunity to showcase herself as a solo artist.
The direction of Pink Friday is a testament to where music is today – a new day in which cohesion has given way to the notion that the single sets the standard on success and a market full of black artists now more than willing than ever to dilute their sound in an effort to crossover.
Following the failure of "Massive Attack," I wondered if Nicki's embarrassment over its lack of success prompted to her drop whatever sound she originally sought in favor of chasing the unexpected success of "Your Love."
Regardless of whatever frame of mind that led to this decision to go in a poppier direction, it was hers to make and ours to accept or not.
I can say with no shame that though it might not be what I expected, I enjoy Pink Friday overall all the same.
Still, when she's the Nicki I came to love she's at her finest. That's why the album's opening tracks "I'm The Best," "Roman's Revenge" and "Did It On'em," are often named as the album's standouts by many.
That's why there's still a slight disappointment that still lingers given similar tracks have been relegated to select store bonus offerings. Songs like "Wave Ya Hand," which features the vaguely mentioned subtle tribute to Ol' Dirty Bastard, and "Muny," both recall the quirkiness that made Beam Me Up Scotty such a fun listen and Nicki an interesting character.
Despite the overdramatic way in which she explains why a past incarnation of herself had to go to promote progress (she claims personal, I think she personally wanted to do as well professionally as possible with this album) on "Dear Old Nicki," it's clear that Nicki doesn't have to dig as far back to the Nicki of a few years ago as she much as she thinks she does.
As for the Nicki of new there are signs that this new direction may not be so bad after all.
Singing is certainly not her strong suit yet, but veiled attempts at R&B like "Save Me" do suggest that there is a decent singing voice lurking somewhere in Nicki. All it requires is the right person to help properly foster it.
On that song along with the obvious future single "Moment 4 Life," this subtler version of Minaj shows how she's now aiming to be an estrogen-enriched version of Drake versus the female answer to Lil' Wayne.
In hindsight, it's probably for the best that Nicki took time to show she can restrain herself sooner rather than later. And yet while the less is more works on those songs it manages to fail miserably on others.
No matter how hard I try, I cannot embrace "Right Thru Me."
It is, in a word, awful. The song may get stuck in your heard, but in this instance it would probably be better off for Nicki if it didn't. Not only does "Right Thru Me" highlight Nicki's occasional lyrical weakness, it almost forces you to make fun of it.
You let me ride
You let me rock
You let me slide
And when they looking
You let me hide
As soon as you hear these banal lyrics you're instantly given reason to believe that you, too, can launch a rap career.
You know I love you, oh yes it's true, boo.
Can't live without you, you kiss my boo boos.
See what I mean? Young Sinick spitting cool emo goodness.
Equally silly is the line, "I am woman, hear me roar" found on the track, "Here I Am."
As elated as I am to see Nicki forgo boasts of her sexual prowess or trying to be like one of the ultra-violent boys, it's those kind of lines that remind you that Nicki is trying a wee bit too hard to appear to of depth.
The problem with trying too hard to seem "deep" is that you often end up appearing about as insightful as a quote found on a refrigerator magnet.
Those that swear this album is one of the biggest let downs in the history of music will cite some of these very songs as prove of their proclamations.
There is legit criticism from her detractors. Songs like "Blazin'," while still enjoyable could've been far better if punched up with better production values.
However, much of the debate surrounding this album leaves out one important fun fact: The album was obviously not designed for many of the people who spend arguably too much of their time complaining about it.
In his assessment of the raging criticism directly aimed at Nicki Minaj, BET's Stephen Hill wrote via Twitter:
"Nicki Minaj scares some folks because for the 1st time there's a major musical movement that they can't relate/attach themselves to."
Therein lies the problem not many are willing to openly declare.
If you're over the age of 25 and often find yourself willing to jump out of your moving car if you leave the radio on for more than seven minutes, there's a strong chance you might hate Pink Friday.
You don't want "Last Chance" with Natasha Bedingfield. I don't blame you, but in all honesty, it's becoming increasingly clear that the album wasn't made for certain listeners anyway.
Pink Friday is by large aimed directly at Minaj's huge younger fan base compromising of an array of ages, gender, and race who all seem just fine with what's found on Top 40 radio.
Now if you're over the age of 25 but not clinging to the soundtrack of your childhood, you can likely judge the album on its own merit and not in comparison to Hardcore, Ill Na Na, Supa Dupa Fly, Funkdafied, or All Hail The Queen.
Pink Friday is nothing like any of those albums but it doesn't aim to be — making it fruitless to try to constantly compare it to anything from the 1990s. Nicki's debut falls under the rising category of "hip-pop," and when judging it on that standard there's no reason to write it completely off as it succeeds in that genre.
Pink Friday is a solid debut that achieves Nicki's goal of showing audiences where she is currently musically: A woman of clear talent and even clearer promise who merely needs to place greater focus on her strengths and quickly drop her shortcomings.
If you disagree with that assertion, so be it. If you don't understand any of the album's appeal, fine. However, for those of us that do you enjoy Pink Friday, or at the very least remain intrigued enough to give Nicki Minaj another chance with a sophomore effort, let us do so in peace.
Tirades about yesterdecade, what doesn't fit your rigid definition of hip-hop, and else everything purportedly "wrong" about Nicki Minaj comes less across as legitimate forms of criticism and more along the lines of a dead on impersonation of one's parents.
We get it, you don't like it and you have every right not to. But you know what? You had your time and your stars. It's about time you give those who have come after you the same courtesy.