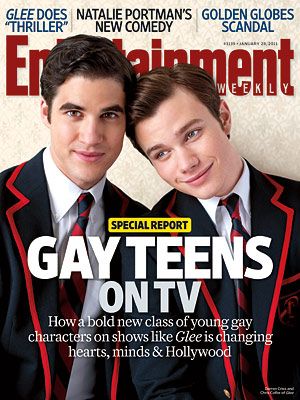 In the latest issue of Entertainment Weekly, Glee is proclaimed to be leading a 'gay teen revolution' on TV. And in an issue of Newsweek published last December, Dan Savage said that Glee along with The Ellen DeGeneres Show have won the culture war for gays.
With all due respect to Glee creator, Ryan Murphy, whose career I greatly admire, and Ellen DeGeneres, a person I adore, I find both these statements to be mighty white, rooted in a privileged point of view, not to mention flat out wrong.
In my newest piece for The Root, I explain why.
One quick thing, though: The site obviously has a black focus, and yes, I did denote the lack of black gay characters on television, but hopefully you get from the actual piece that I feel when it comes to what we see on TV now, a fair share of the gay characters are one note in both black and white. That's helpful but not challenging.
Alright, if you care to check it out – and uh, if you're here, you should – go ahead and click here.
Please hit 'Like' on Facebook and pass it around, leave a comment there and all that great stuff.