By now you've realized that when it comes to making note of certain holidays or traditions, I'm either a little late or a few days early.
But whenever I do decide to chime in, it usually feels like perfect timing once it's released.
After last week's manic-themed blog post about Satan's henchmen (i.e. the private student loan industry) deciding to soil my life day by way of a ridiculous hike in my student loan payments, I think this entry about my plans for 2011 is right on schedule (even if it is on CP time).
You know, given this isn't a real option.
For the last five years I've made the same pledge to myself at the start of each year: To be a better person mentally, physically, professionally, and personally than I was the year before.
After looking at "Feelin' It" again and thinking about just how poor my reaction to that unwanted news was, I know that I need to make a bigger commitment to an otherwise general resolution.
More times than not I try to see the good in everything. However, I am extremely self-critical and a worrier. This is largely to my detriment.
Though I feel right in my anger instead of panicking I should've realized that I've faced a similar situation before and overcame it. Say, in November 2009 when the day after I got one of my main goals for that year – a car – I found out that I was losing a third of my income.
I thought to return the car, but most of the people around me told me to shut up and simply find a way. So I did. I've never been late on a payment nor do I have to hide my car in anyone's lot to evade the repo man. Other opportunities came by fate or by my own pursuit of them. The same will happen now.
Hell, they already have only I think the lending bank (whom I'm sure I will curse out in a future post or published piece) must have sensed it coming and subsequently spoiled the moment.
I always knew that one day, they'd try to bring me down.
Way down.
Way down.
Oooh-ooooh-oooh.
Woo-wooo-wooo.
Really, they should've kicked off the phone call with, "Now let me kick a lil' something about this lady named, Boo."
What irked me most about the hike was the fear that this was going to ruin my plans for the year before I even got to try and achieve them – especially the goal to devote more time to the projects that I hope and believe will take me to the next level in my career. And give myself a much-deserved real vacation after — where I'd hope to find a sponsor in Euro.
When that bad news came I worried that yet again I wouldn't be able to achieve any of this because I would have to focus on working so much harder to stay afloat and keep my good credit intact.
I need to realize that all of those things can still happen so long as I plan accordingly, and more importantly, have faith that they will no matter what. That's probably the real reason for the blowout: My inability to "Let go and let God." I've never been able to fully embrace this concept.
I'm not the religious person I used to be, and while that might help in some areas it's spurred a serious lacking in others.
I have to fix that. I don't know if that means I'll rededicate my life to Jesus or his cousin with the less annoying followers, rub Buddha's belly for good luck, or all of the above (minus Scientology, sorry Tom). I need to find something, though.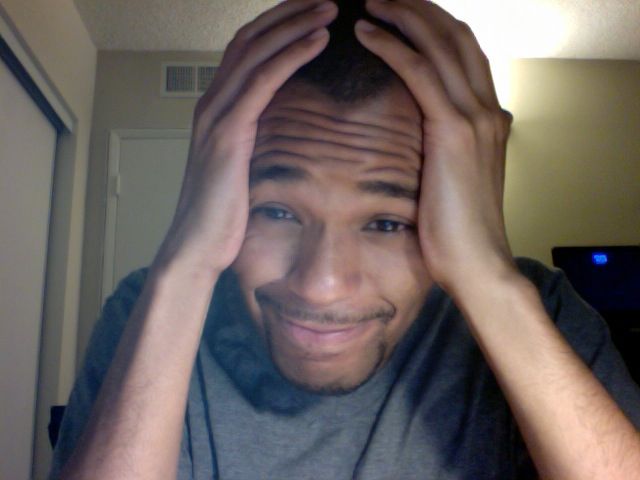 I have to let go of this pose or at least stop making it so much. And I need to stop talking and just do. After I hit publish, I'm going to work really hard to do that.
I didn't jig for like two days over my worrying. If life doesn't include a dip it, pop it, twirk it, stop it every morning, what kind of life can it possibly be?! I don't know and it doesn't matter because I don't want such a life.
This post was inspired the new Weight Watchers PointsPlus program currently featuring Jennifer Hudson. Don't play me, I know y'all heard her in those commercials.
Anyway, a nice rep reached out to me about doing a post about personal resolutions and I think it's a good thing to participate in.
People have had their say about J.Hud's weight loss, but I think she looks amazing and admire her for being able to draw from tragedy and using it to fuel a transformation for herself. As in being able to sing "Look Back At It" with a bigger sense of pride. Gon'.
I have family members and friends that have done the program and it seems to have done well for them. If you're interested, you can get a nice preview.
Ahem:
To give you an opportunity to experience Weight Watchers® yourself, Weight Watchers is offering a 14-day Free Trial to Weight Watchers Online. The offer ends on 1/26/2011. After the free trial, you will be charged for a 3-month subscription unless you cancel before the trial ends. After the first 3 months, subscription automatically renews monthly at standard rules. Click here to sign up today for this great offer from Weight Watchers before it ends!
Merry Christmas.
Full disclosure: As part of my participation in this conversation around Weight Watchers and New Year's resolutions, Weight Watchers gave me a free three-month subscription to Weight Watchers.
No, I am not trying to become even skinnier and do the matrix under the bottom or side of a random door. I already eat pretty healthy, but I'd like to feel less guilty about thinking about eating stuff like this on occasion:
It's fried chicken and waffle appetizers and yes, I know that ain't right at all.
Look, I said on occasion. I'm eating baked chicken wings and spinach while I write this. Don't judge me. I judge myself enough when I do indulge given my ex-fatty guilt, hence my need for more healthy cooking recipes. I'm trying to fight the urge to fool with my Fry Daddy every Friday. That's not going to catch me a Euro booster. Can you let my stomach and me at least try to be greater?
Alright, folks. These are my goals for the year. What are yours?
P.S. I forgot to note that I have time to travel abroad like I want to. Not because of any previous posts, but because your government misspelled my name on my passport. I really need to hurry up so I can make Arceneaux a much more common name to people.