1. So who's going to teach me how to do the South Dallas Swag?
2. Should Robert Townsend be afraid now that the Golden Lords have found a new leader?
3. Why wasn't anyone told Foxy Brown that colored contacts on colored folk ain't the move for 2011?
4. If we're going to call on Beyoncé, Mariah Carey, Usher and 50 Cent to donate the money they made from Qaddafi to charity, are we going to return the favor over the people our government killed for cheap gas?
5. Why won't Lil' Kim just refill her prescription and go back to school?
6. How long before Charlie Sheen's white privilege is taken away & he's reminded of his real last name?
7. Can someone explain the "Born This Way" video to me? Slowly.
8a.  After reading Louis Farrakhan's comments that Rihanna's performances are "filthy" and that her fans along with gays are both gays "swine," does anyone else hope that the next time the minister gets his hair fried, dyed, & laid to the side, the beautician sneaks some pork grease in there?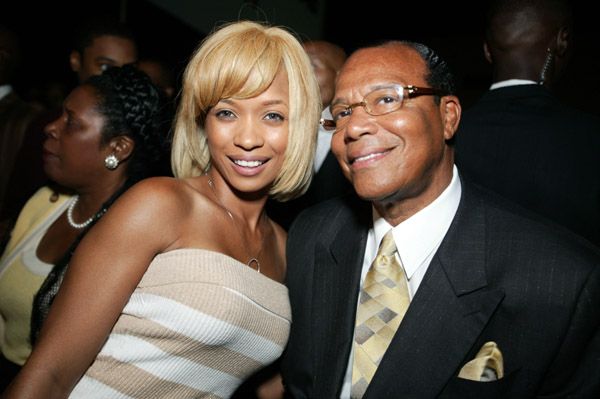 8b. How can he call Rihanna "filthy" but then pose with Karrine Steffans with a big ass grin on his face?
9. Why don't your cousins still know that Moscato isn't supposed to be consumed with spicy Cajun wings?
10. So Matthew Morrison is serious about this solo career thing?
11. While I have no qualms over being mad at 'the man,' but can anyone actually name a black film and/or performance that deserved an Academy Award nomination this year?
12. Wouldn't you rather watch Madea Finally Gets Dementia instead?
13. As great as Adele's voice is, does anyone else listen to her and think, "Damn, I miss Amy Winehouse?"
14. Shouldn't the black comedies on TV actually make you laugh?
15. Is Twitter not the best thing to ever happen to Rihanna's public profile?
16. Can OWN be on air longer than an hour before Oprah Winfrey's critics dismiss it as a failure?
17. Speaking of failures, why would Ciara purposely start beef with a much more popular singer for press?
18. What's taking so long for your copy of Black Friday to arrive?
19. Wherever Raz-B is sitting quietly, don't you hope he stays his ass right there?
20. Is it #beyseason yet?