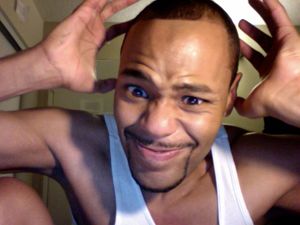 This is the face of a man with a plan. Well, a man with a plan that's come across an increasing number of forces trying to disrupt it. Be it financial institutions I hope eventually fall to their knees in a slow and agonizing death or people so pathetic that they're unworthy of my piss.
So yeah, things have been frustrating yet my excitement and hope for the future are still very much in tact.
What has me so giddy? Alright, I'll tell you a little bit about it but you have to promise to keep what you read on a public forum as secretive as you can. Wait, unless you're telling someone who could be of assistance in achieving set plan. If that's the case, tell everybody…even the mayor. Deal?
You know those messages a lot of you good people usually send me every now and again? Those, "When the hell are you writing a book, fool?" comments? I've been hearing those for years, but a whole lot more lately. And no, it's no longer me talking to myself. I stopped that around the same time I realized I couldn't be Batman.
I'm working on a proposal. I have an idea. I have started fleshing it out. I am writing sample chapters. I have reached out to people who have already done what I'm aiming to do. I have had wonderful people offer to help me in this endeavor. All of this people could be counted on one hand, though that's not the point.
The point is I've finally returned to something I started working on back in college and am determined to get it done. Something I've wanted to do since as I was child. Something I believe will help me get closer to other goals I've set as an adult.
I've been working on this proposal on and off for months now. More times than not, that has a lot to do with why the posts here can sometimes seem infrequent. That along with the fact that I write to live and sometimes the paying gigs take precedent over the free laughs (that's why that pretty little donate button is on the right of my page, which you should totally use but I digress).
I really don't like discussing things prematurely, but someone was smart enough to ask me: Why aren't you using the forum you've established to talk about what you're trying to do?
The question came after I was telling this writer that I often see people from publishing houses and/or networks checking out my site and I have to fight off the urge to post directly on the page, "Gimme a book deal, bitche!"
Then came: "Well, why don't you talk about what you're working on?"
Good point.
And here we are.
I'm not about to post my exact overview on my site, but I will say I've dropped little hints here and there.
The most obvious being the post, "Accepting Where My Piece Blows," in which I wrote about myself and my sexuality at length (go read it).
I can't think of anyone who looks like me who feels the way I do and writes about those feelings with humor. I want to make people laugh and I want to make people think in way I think only I can.
That, more than anything else, is largely what you should know I'm trying to do. I love David Sedaris, I love Aaron McGruder, I love Angela Nissel's The Broke Diaries, I love the writers behind Ego Trip's Big Book of Racism and Rap List.
I love what Helena Andrews has did and continues to do with Bitch Is The New Black.
My stories are so separate from theirs, but I think I have the same sort of mass appeal all the same. In fact, I will tell you this: In one of the lines in my proposal I say I write in a style reminiscent of David Sedaris. That is, if David Sedaris' dad had gold teeth.
Hopefully, I can prove that.
There's pathos there (remember this, or that, how about this), but far more humor. Like insects, priests, hoe shit, and lots of reflections. Oh and of course crazy people. Try this on as a preview: "He Said I'll Die Poor."
All of it connects with my experiences as a colored guy for guy who doesn't walk around like his wrists were permanently damaged by a hammer. No offense to Miss Lawrence, Dwight Eubanks, Lafayette, everyone on LOGO, Derek J, Antoine Dodson, and hell, I'm losing count.
I still have a 2004 issue of Entertainment Weekly's 25 Funniest People in America. Yeah, I need to be included eventually or some equivalent.
In an effort to cut the shit, I've given myself a deadline to finish my proposal: April 12, which is my birthday. This will be my gift to myself.
I need to get this done. When I didn't get into that NBC writing program because I was told I didn't own the fact I was a good writer, it really knocked me down a peg. Of course, other opportunities will come but things would be a lot different if I had taken the charge I am taking now.
Should the posts get really light, you know why. I'm trying to make sure that doesn't happen, but I'm giving you fair warning all the same.
Now, with that said I have some writing to do. Scheme, scheme. Plot, plot. All that. I hope you're playing Ludacris in your head and jigging in response. You're welcome.
P.S. Oh if you're from a publishing house or lit agency right now reading this, gon' click that about me to your right and send an email. Go ahead, do it. Everyone else reading this right now wants you to.
Wait, wait, wait: To those who have any blog ideas for me, you can email those, too. Especially jigs. I like to jig for 20 minutes before embarking on late nite writing. It soothes the soul. Okay I'm done now.