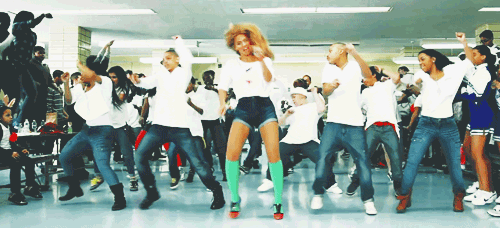 Fear not, fat children of America. The queen has come to save you.
A couple of months ago, I wrote a piece for AOL News about Michelle Obama's campaign to fight childhood obesity. In sum: These Republican jackasses bashing the First Lady for pointing out the obvious need to slip on some fried pork chop grease. That's right, gon' head (yes, gon' head) and bust your asses on the corner of Reality and Check.
The person who can fall first is Sarah Palin.
That intelligence-deficient droid knew damn well that Michelle was not advocating everyone bully the Girls Scouts into selling gluten free cookies. All the woman said was we need to get kids active and eat more balanced meals. I mean, if I did that when I was huffing down orders of 20-piece nuggets at the age of 11 perhaps I wouldn't have felt like I needed a bra between ages 12 and 15.
Michelle is advocating health and fitness yet somehow that translated into the communist black lady forgot her American and soul food roots and wants us to eat like Chinese Olympic gymnasts (who don't).
You would think that if nothing else, we could all agree that children shouldn't look like Sasquatch's older and much fatter sibling before graduating from elementary school. Apparently not, though.
Thankfully, Lady O continued her campaign anyway and has since tapped Beyoncé to aid the cause.
Naturally, I'm not surprised Michelle turned to Beyoncé for help. I mean, at this point it should be well established that the Obamas are Beyoncé stans. That only further lends credence to my theory that if you don't like Beyoncé at all then there's something wrong with you. There just is.
Anyway, this is probably the cutest video I've seen in a really long time.
Not only does my Lord and gyrator look amazing, but those kids look happy as hell. This is like a black holiday gathering on steroids. You know, when all the kids are dancing? It's just like that, only this time you're visiting the relatives who live in the suburbs with the friendly white neighbors (similar to the couple on The Hughleys) who bring their kids over, too. Same thing only set in a cafeteria twirk off.
And if I didn't know any better, I'd say I spot the boy I referred to as Kid Fierce in a previous blog entry to the left. He's all grown up now and still showing hoes no love as he makes sure the camera catches him at the perfect pose. That's right, lil' one. You were born this way.
I imagine by album five Beyoncé will hire him.
All and all, God Bless Michelle Obama for asking Beyoncé to help her in saving kids the trouble of needing a Jennifer Hudson-themed Weight Watchers program before they turn 30.
To do my part to promote the "Move Your Body" campaign I plan on recreating this dance on a sidewalk near you soon. Who's down to join me?
P.S. I peeped the shade in my previous Beyoncé post. To that I say: That's okay, everyone makes mistakes.