Should I end up illegally bound to someone and live in sin with for the rest of my life 'til I hire an attorney, I'm pretty sure I'm going to piss that dude off 'cause I forget anniversaries. Case in point, my blog turned 6 the other day and I completely forgot.
Much of that has to do with the fact on May 31, 2011 I had several deadlines to juggle (per usual). The point of this blog was never to use it as a means of becoming Perez Hilton's play cousin (who I'm not even sure was Perez Hilton in 2005), but to find an outlet where I could hone my skills as a writer and use my site to reach out to writers and editors I long admired. I usually don't give myself enough credit (something else that will get on fellow sinners nerves, I'm sure), but in that respect I've achieved my mission more than I could have ever imagined.
I know that my site's updates have jumped around a bit in recent months (a friend threw shade to me earlier today), but as I explained before I'm working on things that I think will take me to another level both creatively and professionally. Oh and make sure I'm actively writing enough to cover those student loan companies swinging from my sac. Yes, I said sac. I'm vulgar.
Speaking of, I also want to take a minute to speak on something I've noticed rumbling in the comments section. This is the thing: When I say "thank you for taking the time to read my work" I absolutely mean it. At the same time, though I can't control the things people say about me when my writing is published elsewhere to much greater audiences, I can control it here.
That said: Ye ain't gon' come at me crazy on some shit I pay for. Especially not on something as trivial as Beyoncé. I went back and forth on addressing this for a while because in the end, e-thugs don't really get to me. I've heard worse by closer much younger. Those who actually have been faithful readers are aware of this. Still, in hindsight it's worth saying: My opinions are my own, yours are yours but when your opinions go a wee bit too pointed about me I won't allow it. Some of the people carrying on like I'm the Hugo Chavez of WordPress don't even know what was actually said to me. Bless your hearts.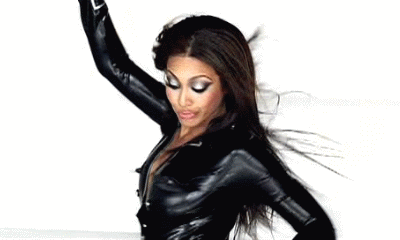 Me being in love with Beyoncé is nothing new nor is me writing about it ad nauseam.  I have been critical of her, though, but in the end it doesn't matter 'cause this is my site. If I wanted to write about how I believe her bath water likely tastes like strawberry soda, that's my right. And you know what yours is, right? I do what I want. No need to be pressed about it. Some folks were acting like I turned them out and then developed amnesia thirty seconds after finishing. That's a good sign, actually. It means more of you are around. Welcome, but note:  God bless you, but get off. If you think my opinion on a given topic is dumb, speak on it. You can definitely post that on here. But if you're not privy to the matters you try to project about, go waste your idiocies on a site like Media Take Out where it will better appreciated.
So that's that.
Now on to the people who matter: Those who read this site. I have no idea who does so, but I appreciate it. Thank you for the continued emails, tweets, Facebook messages, buying me drinks, shouting me out at places I wouldn't expect you to, and all of the other wonderful things that help me in more ways than you might realize. Being told multiple times over the years that your words help folks get through the day (be it 'cause it's mundane or harder for other reasons) or understand themselves better is the best thing a writer can hear. This is certainly true in 2011 when you think about just who calls themselves writers these days (yes, that was shade…an eclipse, actually). You are all appreciated.
I feel really good about where my life and career are going. This site has helped me in so many ways. Probably not when I'm just ranting on shit like the rack daddy, but you know, that helps, too. Perfect example: My first post on here was about my very first date with a dude although you clearly can tell I was doing that "speak in gender neutral terms to avoid stating what anyone with six brain cells could figure out" thing. And, I was getting ready to go to New York to do my third and fourth internship at the same time. Bless my heart. So you get it, right? Nod your head up and down.
If you don't get it, just stick with this: This post is a very long winded thank you. One I'm stopping right now. This isn't a damn Oscar. I'll be a mess when I do start accepting awards. Alright, thank you again.