In my mind, I know exactly how it should go. After months of working out with an annoying, but highly effective trainer I find myself standing in front of the mirror freakishly observing myself in an obnoxiously expensive and impeccably tailored tuxedo. It fits perfectly. Yes, I'm being self-involved. So what if I am? I'm within my right given the occasion.
One too many looks soon prompts my friends to chorus in, "Please get over yourself. We need to start." Reality checks, they never bounce. There inside some fancy room that I can now afford (Who shot ya, Citibank?) I cue the DJ and my march begins. Well, following a celebratory shot. My nerves are bad.
Beyoncé's "Get Me Bodied" is blaring. I proceed to jig, get it big all the way down the aisle. Not long after the participants in the front down to the back proceed to stand up and join me and the other groom as we drop down low and sweep the flo' with it.
Imagine me like this the second after I pick it back up: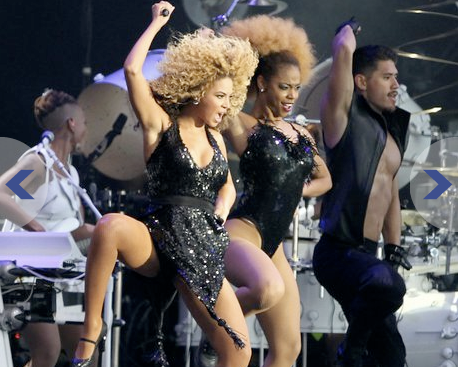 If I can't get Beyoncé there in person, she will be there in spirit. Got dammit. The reception will be catered by Mia X, who will do double duty with a performance of "Party Don't Stop." The other groom and I will fill in for Foxy Brown and Master P. I'm not sure if I want to be P or Fox Boogie yet. I mean, Foxy's voice sounds deeper on the song and her part goes much harder than Percy's.
The reception will call for non-stop dancing to 1990s era hip-hop and R&B and southern rap of every decade. And you know, I'll be sure the DJ throws in some Teedra Moses and tracks like Beyoncé's "Lay Up Under Me" for the folks in need of their emo moment.
This is how my wedding would go if it were to happen. I thought of all of this way back when during a conversation with a few friends obsessed with how their weddings will go (or maybe just obsessed with getting married period). We all have friends like this and given I don't ever intend to play the role of spoiler and avoid such a scenario at all cost, I played along. It only took a few minutes to conceive. I'm a fool with it by nature.
Now, once the New York State Senate voted to allow gay marriages (but say "marriage equality" in group settings, it sounds better for the cause) a few people mumbled verbally or electronically to me that hey, maybe one day my wedding plans will really come to fruition!
The truth is, though, I don't see that happening. While I surely will continue to donate money and use whatever status I have as a working writer to contribute to the advancement of marriage equality (see what I did there…better, right?), I don't anticipate myself enjoying the fruits of such labor.
I have never wanted to get married anyway. No, not ever. Yes, I can pretend how such a move would go but it's never been something I was really interested in doing.
Predictably, much of this resentment is rooted in the relationship between my parents. Do you know what it's like to see two people who probably never wanted to be together that long end up legally bound together through the cultural and familial pressures of the time? Then factor in lots of depression, addiction, and resentment.
My parents are still married, though I'm not particularly sure why. It's like one is waiting for the other to die — or at least hoping so in order to prevent premeditated murder. No, I'm not being facetious. They don't like each other. I've written about bearing witness to violence growing up before, but I neglected to mention that as an adult I asked my mother why. I needed to deal with the resentment I had towards her over keeping us in that kind of environment for so long. She said didn't want to end up on welfare raising multiple kids. Fair enough.
I know it isn't right to base the failures of your parents on anything you do, but generally I didn't grow up seeing a lot of people in what I'd consider to be a happy marriage. I barely saw married couples period outside of the few family members I actually knew. None of their unions looked all that appealing either.
I never quite believed the romantic fantasy Hallmark and various clergymen try to sell people about marriage. I always looked at marriage as some means to some end, typically an economically-centered one. As I got older, I read more about its origins and I continued to think, "Nope."
My sister never wanted to get married either. She never said that she wanted to be lonely. She just never wanted to be someone's wife. She did get married, however. At the encouragement of our mother. It was sort of a secret. When she did tell me and mentioned that our mama was pushing for it I instantly quipped, "Why would you listen to her?" She's asking herself that now as she moves forward with plans for a divorce. Not her fault. She tried. But she did what our mom did: Marry a man who wasn't right for her for the wrong reason.
I love my mom, but I'd rather accept a dentist referral from Amy Winehouse than entertain her push for marriage. Not so long ago she mentioned did she mumble something on the phone about me getting married and having kids. With a woman.
Ma'am, bye. Selective memory, that woman has. I know damn well she remembers what I told her and more importantly, I remember what I told her.
The irony of it all is that my mom used to tell me that I would end up alone. I ignored her, thinking to myself that I have just as great a chance to live in sin as anyone else.
Hell, if I ever did decide to get married I highly doubt she would show her face given I'd be marrying a man. Should that happen, I would gain a partner and be rid of my parents. Period.
Interestingly enough, my dad was upset with my sister for getting married. He told each of us to avoid marriage at all cost — in times when he was both drunk and sober. You see, his mother was abused by his dad. When my dad would jump in to defend her, he would end up getting beat, too. Shotguns shoved into his chest at that. His mother would then go on to leave him, and marry some pastor, who is technically my step-grandfather. I call them what they mean to me: nothing.
My dad has numerously made mention that the family life he ended up with was not one he ever intended on having. While I'm certainly glad to be here, I don't blame him for not wanting the pressures that come with marriage. He didn't think he could handle it. He was right.
I'm not sure I can either. Being honest with one's self isn't always some event that mirrors a "positive affirmative" you can read on a bumper sticker or Twitter timeline.
Not to mention that even if I did get to the point where I felt compelled to be tied to someone on paper, I kind of wonder would anyone even want to do that with me. I've been successful with a lot of things. I can see myself being even more successful in the days, weeks, and years ahead. I don't know if such success will me bet in my romantic life as it will in my professional one.
I know, I know. I sound like a sad Mary J. Blige song. I'll be that. I've had people in my life that I felt loved me. Problem is I also knew that they didn't want to. Much of that seems rooted in the whole being gay is an abomination and God will personally spit on you should you even dare approach Saint Peter to see if your name is on the list thing.
I know of so many gay men say to themselves and my friends, "I'll probably end up married to a woman." Bitch, shut up. I am a magnet for this type. I'm not sure why. I do know that I wish I had some sort of spray for them, though.
I fight that stance so firmly that I know I very well may be alienating people still trying to reconcile who they are with what they've been told. I increasingly worry that my mom may have had a point. That warning still haunts me from time-to-time, especially when I think about previous relationships. Or lack thereof.
When I say these things to people, I wonder if I sound completed jaded. If so, there are days when I'm quite comfortable with that. I usually think, "If I don't end up with anyone or like, get married and shit, I'll still lead a happy and fulfilling life." My goal in life is to help make sure those who come after me don't have to ever feel this way. If by the end of my life jig I made things better, I'll die smiling.
About a week or so ago, I started to debate if such a life would really be enough and whether or not I should have a better attitude about all of this. It started with a post from one of my favorite writers, Rich Juzwiak. A few days later I was able to officially buy and once again take in how happy married Beyoncé sounds. Finally, conversations with new friends who got me to thinking about the possibilities.
But as soon as think about the possibilities, I go back to all of these darker thoughts. For much of last night I tried to conceive of a way to tie a pretty bow around this post. As in: "Yeah, clearly I'm dealing with a lot – but wait – I still believe!"
I couldn't think of anything and it only made me angry.
When I think about the kind of commitment that most associate with marriage, I think about people losing. Losing themselves, their dreams, or at the very least a part of their happiness. And though I really am happy gay people are making stride in our efforts to have our love recognized fairly (in terms of property, taxes, medical visits, etc.), I can't wrap my head around the idea of me ever making that kind of move.
That is my truth. Why should I feel bad because it doesn't sound "right?" Maybe that truth will change, maybe it won't. If it doesn't, I will continue to be happy with my life as it is lived. If it does, I'll have my Beyoncé-inspired ceremony and I'll make sure everyone is sent the registry info. No matter what happens, I will be okay.
Finally, I found a way to accentuate the positive. It feels good to know that once I finally deal with this confliction I might be able to do something about it. If nothing else, I think that's worthy of a celebration.