In my mind, I know exactly how it should go. After months of working out with an annoying, but highly effective trainer I find myself standing in front of the mirror freakishly observing myself in an obnoxiously expensive and impeccably tailored tuxedo. It fits perfectly. Yes, I'm being self-involved. So what if I am? I'm within my right given the occasion.
One too many looks soon prompts my friends to chorus in, "Please get over yourself. We need to start." Reality checks, they never bounce. There inside some fancy room that I can now afford (Who shot ya, Citibank?) I cue the DJ and my march begins. Well, following a celebratory shot. My nerves are bad.
Beyoncé's "Get Me Bodied" is blaring. I proceed to jig, get it big all the way down the aisle. Not long after the participants in the front down to the back proceed to stand up and join me and the other groom as we drop down low and sweep the flo' with it.
Imagine me like this the second after I pick it back up: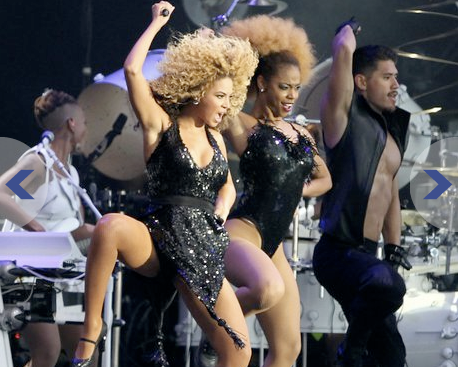 If I can't get Beyoncé there in person, she will be there in spirit. Got dammit. The reception will be catered by Mia X, who will do double duty with a performance of "Party Don't Stop." The other groom and I will fill in for Foxy Brown and Master P. I'm not sure if I want to be P or Fox Boogie yet. I mean, Foxy's voice sounds deeper on the song and her part goes much harder than Percy's.
The reception will call for non-stop dancing to 1990s era hip-hop and R&B and southern rap of every decade. And you know, I'll be sure the DJ throws in some Teedra Moses and tracks like Beyoncé's "Lay Up Under Me" for the folks in need of their emo moment.
This is how my wedding would go if it were to happen. I thought of all of this way back when during a conversation with a few friends obsessed with how their weddings will go (or maybe just obsessed with getting married period). We all have friends like this and given I don't ever intend to play the role of spoiler and avoid such a scenario at all cost, I played along. It only took a few minutes to conceive. I'm a fool with it by nature.
Now, once the New York State Senate voted to allow gay marriages (but say "marriage equality" in group settings, it sounds better for the cause) a few people mumbled verbally or electronically to me that hey, maybe one day my wedding plans will really come to fruition!
The truth is, though, I don't see that happening. While I surely will continue to donate money and use whatever status I have as a working writer to contribute to the advancement of marriage equality (see what I did there…better, right?), I don't anticipate myself enjoying the fruits of such labor.