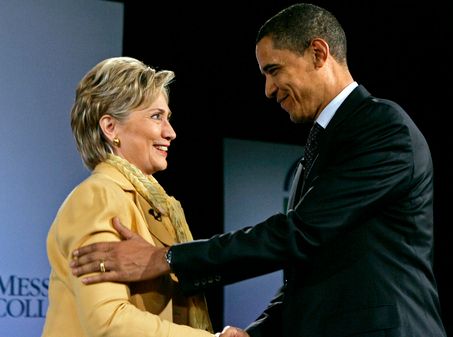 Those of you who follow me on Twitter (no subtly today, y'all) you may have noticed that in recent months I've been doing a lot more political writing. I'm pretty sure for some that invites the same level of excitement Evelyn Lozada would have rocking a chastity belt. Be that as it may, for those that are interested I wrote a piece yesterday for The Grio aimed at the ghost of Hillary Clinton's political past. Folks are salty at Obama and want Hillary to take him out in 2012.
Ashanti's little sister has a better chance of becoming the next Lady GaGa before such a scenario happens, but dare to dream I guess. After dismissing them, I opined on what that means about President Obama's political reality. You can check out the piece here.
And just as a throwback, here's an old post: Help Me, Hillary Clinton.
I actually need to bring that section back on the site. I can't think of any people off the top of my head, but if you have suggestions feel free to share. That's all for now. I'll be working on another piece about Obama for another site tomorrow. I imagine some of your cousins might want to curse me out over it, but they will be alright.