1. Is it safe to say that Keri Hilson is the wicked stepsister of R&B?
2. Isn't Sarah Palin basically, "What if Tracy Flick weren't so smart?"
3. Can someone let Kim Kardashian (and select media outlets) know that while we're happy she finally got married, she and her husband are not now nor will they ever be like William and Kate?
4. For a second there, doesn't this concert sound like it's for the Gay Male Chorus of Atlanta instead of one for Brandy?
5. Judging by Raven-Symoné's subtle shade, how much do you think it sucks to be Ciara on the anniversary of Aaliyah's death each year?
6. Must we make every natural disaster – especially those predicated in advance – out to be some threat from God?
7. Even if Meeka Claxton does need half the Indian Ocean to quench her thirst did y'all have to boo her like that?
8. Vocal talent levels of a cartoon bird aside, Cassie has some pretty dope songs on the low, no?
9. If you were Madonna, wouldn't you have a bunch of young boy toys, too?
10. Why does it feel like Kelly Rowland promoting La La's Full Court Life more than her own album?
11. Speaking of La La, do you think her life reality show makes some of those other "basketball wives" cry at night?
12. What in the fuck is this shit?
13. Katt Williams says he's a Christian and proud to be an American, but how do you think a psychiatrist would describe him?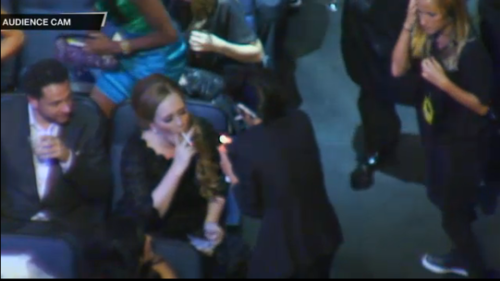 14. Didn't Adele say she quit smoking?
15. What's scarier: The idea of  "post-blackness" or the reality that there are still way too black people ready to to denigrante their own for own advancement?
16. How did J. Cole go from the hot wing of hip-hop to the Ambien of rap?
17. Is it disrespectful to already be pressed for Amy Winehouse's posthumous album?
18. Isn't this tweet the kind of stuff restraining orders are made of?
19. How soon should we expect Beyoncé to get back to work after giving birth? Or will she even stop at all?
20. What is wrong with Chris Brown?