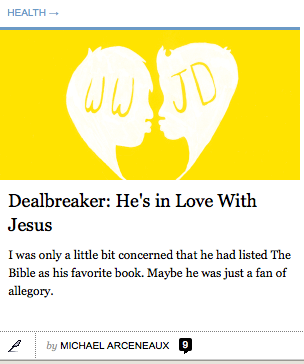 So I've taken part in Good magazine's "Dealbreaker" series with an essay called, "He's In Love With Jesus." This underwent a lot of back and forth between me and my editor on the piece. That said, I know it might read differently than the personal works y'all have read on the site (possibly a good thing, you can tell me). I should note that the more I looked over the essay the more it almost felt like an amalgamation because I quickly became aware of all I've felt this sort of pressure from a variety of people for quite some time. It's honestly more about what the person referenced represented than the guy himself (shade).
You know, given I've been a sad R&B song over someone else for so long anyway. Let's stop over sharing for a moment, shall we? Hopefully, I'll get the chance to explore more about myself, religion and sexuality in that thing I really, really want (really). That was largely the motivation for me to even try my hand at this.
Okay, enough of my babble. Click here to read Dealbreaker: He's in Love With Jesus. Feel free to tweet, hit like on Facebook, and offer your commentary on the site.
And if you care, there's other stuff like "Not The Marrying Kind" and "Accepting Where My Piece Blows."
Gon' now.