Thus far I've failed to partake in my traditional holiday customs such as watching A Diva's Christmas Carol and two-stepping to "Santa Clause Goes Straight To The Ghetto." However, with the world's most expensive birthday celebration now only a week away I realize that it would be wrong if I failed to acknowledge the holidays 'round these parts. So here's my Christmas list for the stars…and Keri Hilson.
Chris Brown: A journal.
While his tweets tend to make it very easy for bloggers and entertainment writers to find material, I think it would be in Chris Brown's best interest if he gave his Twitter password to the head of his label and start jotting down his thoughts down on paper. Or maybe share them with a therapist. I heard he had a personal account that's locked, but nothing is really ever private online. For the love of God, Christopher, stop sharing your emotions on the Internet.
As a bonus gift, I'd like to keep his mama off Twitter forever. Bless her heart and all, but Mom Breezy needs to lay off the caps lock and declarations like: "FOR GOD SO LOVED THE WORLD HE GAVE US HIS ONLY BEGOTTEN SON." Two seconds later: "NO! I AIN'T MEAN JESUSSS! I MEANT CHRISTOPHER! REMEMBER WE'RE ALL GODS CHILLIN!"
Yeah, if y'all want that young man to win they both need to cut all that out in 2012.
Barbara Walters: Something else to do.
With all due respect to the supreme journalist, in recent years Barbara Walters' interviews have left a lot to be desired. Worse, in quite a few of them she's been incredibly rude to interviewees and has been allowed to get away it because she's as old as the first contraceptive. How about we pair her with someone her own age? That way, when she tries that slick shit someone can rightly snatch her wig.
Tyra Banks: A new idea.
Someone put a bullet in the America's Next Top Model franchise and take it out of its own damn misery already.
Keri Hilson: Media training.
No sense in sugar coating the obvious: I enjoy hearing Keri Hilson speak about as much as I do waving my dick over the kitchen stove. She's self-important, bitchy, and obnoxious as hell. My initial gift idea for Keri Hilson was a trap door for her to fall through although I've since decided to be a bit more benevolent. There are plenty of public figures that are certified jackasses. Fortunately for them, they know not to let potential supporters in on that secret.
The same can be said about the way she acts like someone is spitting in her mouth whenever she's asked about Beyoncé. Keri, it's a Beyoncé and Rihanna world and you're lucky to be pretty girl rocking off beat in it.
Keri seems to be under the unfortunate impression that her level of talent excuses her awful personality. I can't cure delusion, but I can recommend someone who can help her mask her personality flaws. The fact that a person with a song that contains lyrics that go, "Fuck me. Fuck me. It's the way you fuck me" and boasts about having "the kind of pussy that keeps you off the street" is in no position to engage in the pretentious debate over "real music." Gon' somewhere, Keri, and get a damn publicist who actually cares for your door licking ass.
NeNe Baloo Leakes:
It would go wonderfully with her new nose and wardrobe. I'd also like to inform her that speaking in that phony "proper" voice doesn't manage to convince a single soul that she's not a loud, angry, turkey neck-eating bully. This is particularly true when in other instances you say things like, "You have to pateck yoself when ya having sess." Be yourself or be yourself after meeting a speech coach. Bloop.
Sheree Whitfield: A reality check.
I happen to find Angela Bassett arms incredibly entertaining on The Real Housewives of Atlanta, but after the last few episodes of the show and one quick listen to her new single, "Who Gon' Check Me Boo?" I think she needs to take a step back and regroup. She doesn't need to be singing the way Sillkk The Shocker raps. Nope, she needs to be pushing "Who Gon' Check Me Boo?" t-shirts while releasing a workout DVD. I don't understand why Sheree hasn't realized that her destiny is to be the trap's version of Jeanette Jenkins. You need to be getting to the money, Sheree, so you can build that library you plan to store your shoes in.
Tamar Braxton: A hit.
I know a lot of people were not overly impressed by Tamar's appearance at The Soul Train Awards, but I love her, her voice, and I want her to finally enjoy some success musically.
I'd also like to thank Tamar for giving us such a great gift in the New Year: Her own spin-off show. Boom.
SWV: A hit.
Kut Klose didn't make it with their new song last year (?) so we need this to work. "Co-Sign" is classic SWV and if they manage to get a hit maybe it will encourage MoKenStef to regroup and give us another hoe shit anthem.
Toni Braxton: This video on loop.
Come on somebody. I love me some Toni Braxton, but most of her longtime fans know that she has doing her best when she wasn't trying so hard. As in, Toni drop the dancing, abandon the come hither Heather bit, have your beautician snatch the tracks back in favor of that short do you used to rock (so well) and stand there and sing.
Kris Humphries: The trap door I meant for Keri Hilson.
Blake Griffin's not as cute older brother is wasting his time trying to get the masses to believe Kim Kardashian defrauded him. Anyone who dates a Kardashian knows exactly what they're getting themselves into, especially if they appear on their reality show being an antagonist to its co-stars with the kind of talking points regular viewers have. While he continues to berate her celebrity he ought to be grateful for the smidgen of stardom he now has because of her.
Drake: A shoulder to cry on.
The Debbie Downer of rap needs to buck the fuck up. Despite being an ex-Canadian teen star that looks like the lovechild of Captain Caveman and Dr. Scholls, Drake has managed to mold himself into some pseudo Houstonian who drives the strippers insane with his My So Called Life inspired rhymes. You would think he'd be a lot happier with himself and the fame he clearly covets. I love So Far Gone, but Aubrey is teetering on whiny status now. Yeah, he said he doesn't make music for niggas who don't get pussy, but I don't doubt for a second that the Mary J. Blige of the early 1990s would slap the simp out of him. That said, I want Drake to find some shoulder he can lean on and cry all over. Get it out of your system, homie.
Rihanna: A vacation.
When you're vomiting midway through your concerts I think you're ready for a time out. In exchange, while Rihanna's away I get to play…with Matt Kemp.
Beyoncé: A better team.
As much as I love Beyoncé, 4's success or lack thereof isn't rooted in the material so much as how it was promoted.
Jackie Christie: A psychiatric evaluation.
The United States of Jackie Christie have a lot going on and while that ultimately makes for loads of material for a reality show, the self-appointed First Lady of the NBA needs to holler at a doctor who I'm certain will direct her to the nearest pharmacist.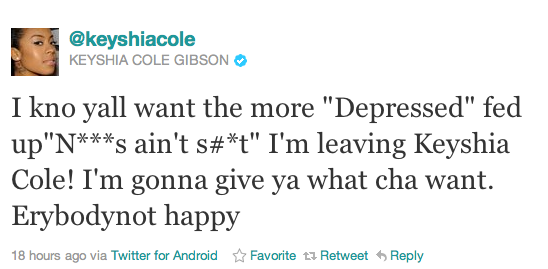 Keyshia Cole: Direction.
Never mind, she knows exactly what she needs to do.
Herman Cain: A muzzle.
And don't you ever take that shit off, B.
Evelyn Lozada: A dictionary.
Since she's a "writer" now I imagine she needs to expand her lexicon beyond the words "bitch" and "fuck." I also wanted to find her a coupon for vaginal rejuvenation, but well…I'll let Chad handle that.
As for me, I'll gladly accept a book deal, development deal, some T.I. teeth, all of Trey Songz, Jesse Williams, Rihanna (shut up, I'm curious), Andy Cohen's PIN number (gay mafia inductions are so necessary next year) mu-mu-muny, yen and the pesos, and world peace.
Merry motherfucking Christmas, folk.