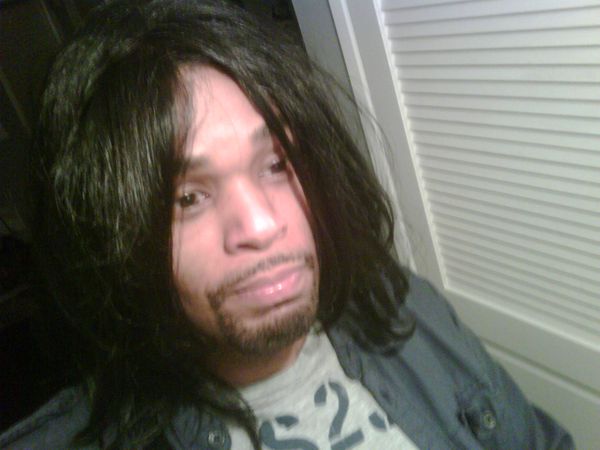 There's a good an explanation for this lacefront, I swear. Before you dare even think it, no, it's not mine, and please, I do not cross-dress. I mean, not that there's anything wrong with that if you elect to make that one of your favorite pastimes. See what had happened was: I was kind of drinking a lot and doing hoodrat shit with my friends. After we gathered 'round the table to talk 2012 resolutions before a bountiful plate of some bomb ass nachos. Then while we made our way to the host, Mimi's, bedroom to see its glorious transformation, I spotted the wig. Mimi, being the quintessential bad influence, told me, "Wanna try it on?" I was ambivalent and then she said, "Do it!" So I did.
I immediately thought of Funky Dineva and said, "My hair is layed" like Michael Jackson's last years." As soon as I threw that wig on I felt like I had been hit by a smooth criminal, ready to check on Annie's little young pasty self and see if she was okay. I was named after the King of Pop, after all (my mama since claims that she named me after Saints Michael and Joseph, but my sister broke it down) so there's nothing wrong with a delayed tribute. Well, besides dancing in the heat to "In The Closet" (for the record, Naomi snatched MJ's thunder a whole bunch in the clip) on a public sidewalk.
Fresh says I look like Venus and Serena. I imagine if my mama saw this she'd say I looked more like a mortal sin. Or are those terms mutually exclusive? Kidding. Don't wanna beef with Canada Dry or  Chicago's Deepest Dish. I might as well be able to make fun of myself. The student loan corporations sure are doing it. Anyway, so feel free to point and laugh…now 'cause this shit will never happen again. Never. That is, unless someone offers me $20 million to do it. Or get me drunk enough. Then again, the economy might force me to go snatch Mimi's wig from her place and make it do what it do.
I will never put on a bra, though. If I didn't wear one when I actually needed it, I won't be doing it now.
Now as I go debate whether or not I'm out of my mind for posting this, get into Funky Dineva, he who rocks that shit much, much better. My favorite clip is below the hood.
"Ain't nobody hating on you, NeNe. They hate you." Yes, Gawd, bitch.
But wait: Can I not talk about Tyler Perry anymore? I likely will all the same, but please advise.