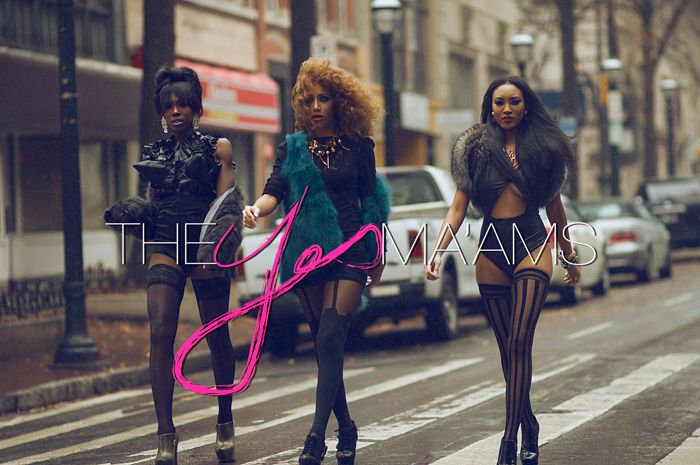 I'm a little late to this party (at least when it comes to writing about it here), but fortunately, I pre-gamed. Anyone who has read this site at length knows that I have a strong love of all things related to Vanity 6 and Apollonia 6. For so long now I've looked for their modern equivalent. I thought I was close once before, but I do believe The Yes Ma'ams may be it. That's why you shouldn't let my tardiness on the topic fool you as I'm quite impressed with these ladies. From the music to the styling to their Web site and overall presentation, The Yes Ma'ams are having a better rollout than artists with major deals.
Plus, I love how they incorporated one of my favorite words into their name: "Ma'am." I've offended many an old lady mature woman on the East and West Coasts by being the Southern gent that I am and using the term while speaking to them. Well, these ladies give Whitley Gilbert: The Early Years realness with respect to their ages, and see, they're not ducking the world. Learn to trust us gay men, people.
Anyway, I so hope they get what they desire very soon. And full disclosure: I fancy quite a few of the people behind them and am wishing them all the best. I like them even more for having something to push that I don't have to pretend to enjoy (I'm no good at that anyway). Indeed, I've been body rolling to the two tracks the Ma'ams dropped on Valentine's Day, and if you haven't heard, check them out below.
My favorite of their two singles is "Only If I Say So." It's the kind of track you want to eat healthy and work out for. You know, just in case you need something to strip to when the Sallie Mae troubles get too healthy. Or well, strip to just because.
The other new release is "Vanessa," which I'm digging more and more. When I first heard, I thought of Vanity 6's "If A Girl Answers, Don't Hang Up." Sonically, they're not especially similar, but I do think the former offers that same kind of playful flair.
So yes, I am newly in love with this group and look forward to having a gay old time to future offerings. Now gon' get you some more of Privacy, Slander, and Secret at their Web site, http://theyesmaams.com/. I'm going to try my very best to remember those names. But in the future, if I call one of y'all Yes, Si, and Yasss, know that it came from love. And me getting older.