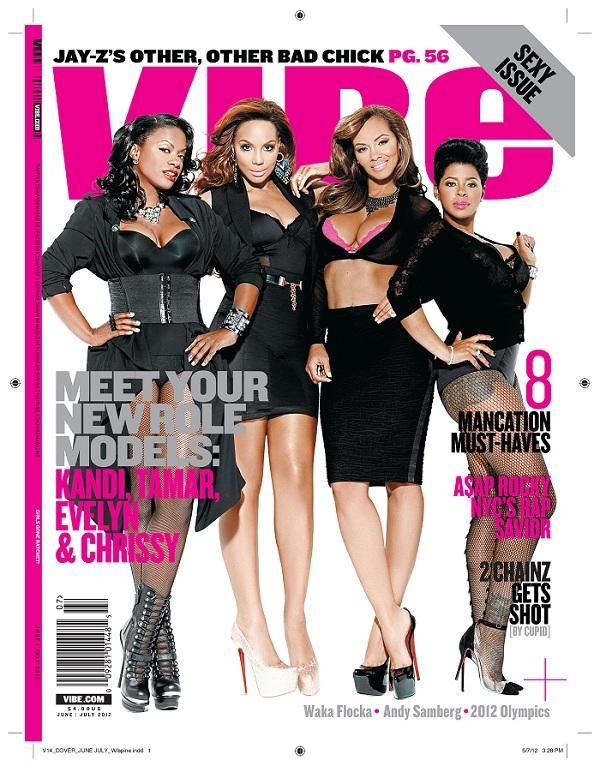 You could give me a lifetime supply of damns and I still wouldn't give one to the cause of hating the reality TV-themed cover of VIBE magazine's "Sexy Issue." I knew it was coming so I'm not surprised. To be honest, I am surprised it didn't happen sooner.
VIBE isn't really calling them role models, y'all. If you think so, meet me friend: sarcasm. Sarcasm can sometimes be too slick, too salty, and maybe a lil' too on the nose. But hey, it's in jest all the same. You don't have to love sarcasm, but understand that motherfucker, please.
Plus, you could actually read the article and note how each person on the cover says they're not a role model. Some of them are actually taken a task a bit about their behavior. How often does that happen with a bottle or "bitch" being thrown around?
At its height, VIBE was seen as the kind of publication that addressed the pulse of pop culture. If anything, this is VIBE getting back to that. This is where we are in terms of culture. The dominance of celebrity and how the need to fill airtime due to the surge in cable channels has only intensified the kind of power a "star" yields. This is how it is. How can I bash VIBE for putting the stars of the shows I talk about the most on their cover?
Don't get me wrong, though. I'm not exactly grinning about the way things are. When I get asked to interview reality stars who can barely form a coherent sentence without breaking a sweat about the books they're releasing but didn't write, I get frustrated. Especially when I hear back from different agents saying yeah, I like you and your material, but…which is exactly why I concocted that Rob Kardashian plan.
People with no discernable talent are taking every industry that requires one by storm. You can't help but feel a way about it even if you salute everyone's respective hustle. Unfortunately, I sometimes feel guilty about my own role in helping create that reality. Not just covering pop culture here, because I actually try to do commentary and humor. I mean by writing entertainment stories – plenty featuring the stars of all the top reality shows – for work. I do worry if that makes me a part of the problem, though I do know that I consume all sorts of news and write about many topics. It's your cousins who are one note. But you know, how else will I get Citibank to stop swinging from me?
Again, I get why some are a bit vexed about this cover. VIBE is known as a music magazine. Two of them sing, but you don't give a damn about that (I am waiting, though, Tamar) and we all know banging a rapper doesn't count as musical talent (on Billboard). Still, it's all about perspective. This is a mirror. Suck it up and accept it. Behave accordingly in response if that would make you better. And more importantly: This is a magazine cover, folks. Stop acting like you still read those that often anyway. Well, this cover is clearly intended on rectifying that, ain't it? Tell me you don't think it's gonna work.
Meanwhile, I need to figure out a game plan on being a real writer. I think I'll start with replacing Dice and Po as La La's gay homies. We'll see Rob says.