1. Now that Kelly Rowland has released a new single, it'll only be a short while now before Beyoncé drops her new song, yes?
2. Do you think VH1 has already offered Shawty Lo another chance at reality television?
3. Did Mandeecees' mama really name him Mandeecees?
4. I don't care if she remixes it to "Obama On Fire," can someone inform Alicia Keys that she must stop trying to make "Girl On Fire" a thing?
Lol. No more singles! Album not selling good enough.RT @amerikanskitzo: Okkkkkay @keyshiacole im waiting for some … tmi.me/HCCEI

— Keyshia Cole Gibson (@KeyshiaCole) January 21, 2013
5. Can y'all go buy Keyshia Cole's latest album so she can release "Hey Sexy?"
6. See why apologies and paying people on time matters?
7. Does André 3000 realize how hurtful he is with his constant reminders that OutKast isn't coming back?
8. When is someone going to tell Chris Brown to stop walking around looking like he's on that Heisenberg?
9. Who is responsible for booking Lupe "Obama Is A Terrorist, Plus I Don't Vote" Fiasco for an Inaugural Ball?
10. Why am I not surprised Keri Hilson said the following: "Don't get too wrapped up in baby world that you forget about Keri Hilson because we make great music together so let's do it?"
11. How has Erica Mena managed to go through life without wearing a straight jacket and catching a weekly fade?
12. At least Robert Kardashian knows, right?
13. Do some of the people upset about Kanye West knocking up his longtime fetish realize that he was never going to produce anything for their uterus — real or imagined?
14. Am I supposed to not see through this habit of screencapping people who 'like' your photos as just another way for people to virtually masturbate?
 15. When did The Learning Channel become VH1's older sister?
16. Considering that even with declining ratings it's still the top show of its format (as opposed to where she is musically), isn't it a bit odd for Jennifer Hudson to be suggesting to American Idol that they bow out now?
17. Can people stop with these cut and paste posthumous Aaliyah releases?
18. So I am to believe that Manti Teʻo never thought to Facetime his virtual girlfriend at least once so he knew it was real?
19. You understand why Nicki Minaj cursed out Mariah Carey now, don't you?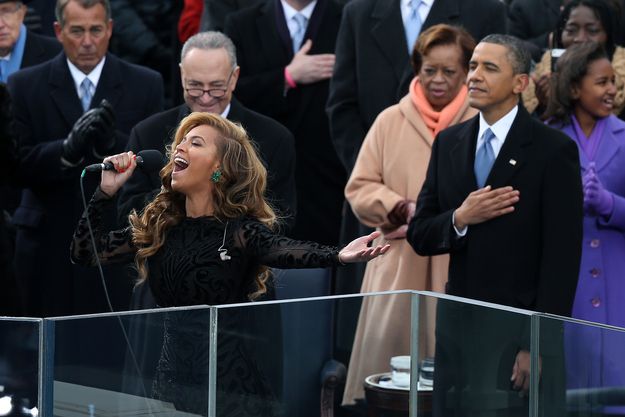 20. Can you guess what was Chuck Schumer's favorite moment from Inauguration?