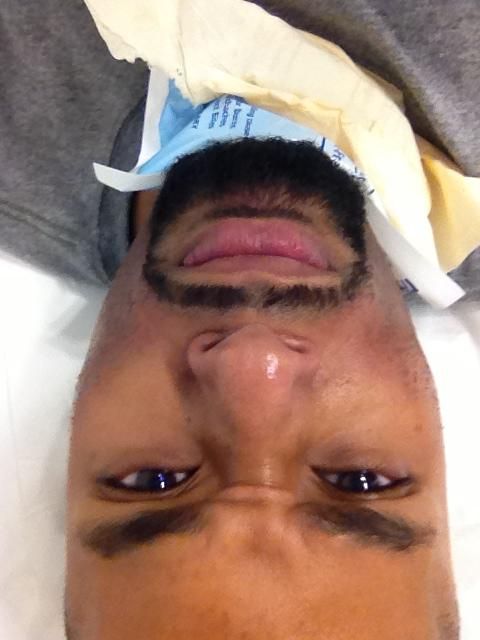 If you took Beyoncé's favorite heel, dipped it in hell,  proceeded to have her given the Wayne Szalinski shrunk treatment and instructed her to step all over my face and neck, you'd get the kind of pain I'm experiencing now following laser hair removal treatment number three.
The following picture is from treatment number one. As you can see, I don't see it for the pain. Like, after the first treatment I told the woman with the gun, "I'm sorry if I sounded like a bitch." She says she's heard worse. Say, like me today probably.
Silly, silly me. I didn't realize just how painful the procedure was — and I have a high threshold for pain. I've had wisdom teeth removed without the novocain kicking in and even that felt better than the laser. I'm sure the same could be said of tattooing my long last name on my dick.
Naturally, people let me know that fun fact after it. "Well, you were so excited. I didn't want to ruin it from you," said one friend I cursed at not long after. "Uh, I mean, you are literally burning the hair follicles off your face and neck. That doesn't sound painless," said Captain Obvious to me, Officer Oblivious.
Fine. My bad. Damn.
For some odd reason, the $80 cream I purchased to minimize the pain did not stop me from the desire to scream out those high pitch, dolphin calls commonly referred to as the Mariah Carey high not in pain. I must've done something wrong, but you best believe that won't happen again. I'll be certain the one with the gun rubs whatever cream and plastic covering properly to minimize the pain.
Whatever, it's worth it.
As much as some of my friends like to joke that I look like gumbo and Korean BBQ came together to create a joke – leading to nicknames like Jackie (Chan), Bruce (Lee), and Kim Jong Trill (a personal favorite) – the curly ass hair of my past paved the way for the garden variety Negro problems that is razor hair bumps. And oh, bitch, do I hate a bump.
I can admit it now, but those who know me well know how much this bothered me. To the point where I ducked suggestions to do things like YouTube videos, blah, blah, blah, over my insecurities.
I have done TV before, though. I know how to camouflage. Plus as some of my friends would tell me (constantly), it wasn't nearly as bad as I thought it to be.
Whether that's true or not, I'm finally doing something about it and I couldn't be happier even if I have to hold back serving the woman with the razor fresh out the womb, wailing realness each and every treatment.
Case in point, this picture, which could easily be captioned "Fear of God almost trounced by woman with the laser gun."
And this one, which is giving, "What in the hell have I done in the name of vanity?"
That sentiment goes away fairly quickly. After all, vanity has its merits. I mean, we've all heard "Nasty Girl" and "7th Heaven."
To me, this is all an investment. HD is unforgiving, and while I'm well aware I'm not perfect, I'm not giving the Twitter and the Facebook and the thoughts tip toying in my head in ammo in targeting my aesthetic. I try to live my life like Beyoncé as much as possible, but there are moments when I give in to my Keri Hilson and Keyshia Cole.
I'm sharing this for three reasons. One, I now salute Kim Kardashian's thug level. That girl has been nipped, tucked, snatched and scaled all the way back. Moreover, she's by nature a hairy Armenian but thanks to nurture torture, a very happy hairless traditional-looking white. That could not have been easy. Slow hand clap for you, Kimberly.
The other reason is all of this has reminded me how silly I can be at times. I should've been done this procedure, but at the same time, it was ridiculous to let that curtail me from doing certain things because I'm so self-critical. Like, there are so many bugawolves doing it with no shame. Why did I hold myself back?
I don't believe in fauxtivational speaking, but it's amazing how much we can hold ourselves back over the smallest of problems that largely exist within the confines of our big heads. In the future, we should all think about the prophet, Kimbella from Love & Hip Hop and her profound phrase after getting sucker punched by that big ass, miserable bull, Chrissy Lampkin: "Still look pretty."
Amen, girl.
Lastly, the shit works.