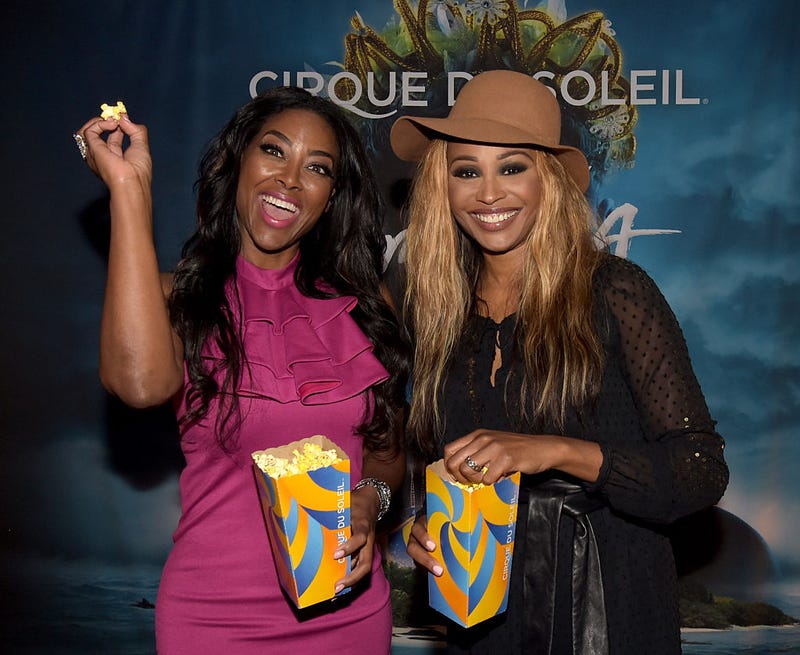 If reports of NeNe Leakes and Kim Zolciak's return to The Real Housewives of Atlanta are true, praise everyone on high because this season has been long, draining and worrisome. Some of the cast members are guiltier than others for that, and in the spirit of their nastiness, here is a ranking of everyone who's irritated me from least to "Girl, you're the absolute worst."
Cynthia Bailey
Cynthia is the least bothersome cast member of RHOA. When she first joined the show, she was attached to NeNe Leakes like a ring to a nipple, which was a bit frustrating to watch when she would introduce things like the very ridiculous friendship contract. A long time has passed since then, though, and honestly, the most annoying thing about the former model has been her ex-husband, Peter Thomas. Peter liked being on this show way too much, until he didn't. You noticed this at the end of the third edition of the reunion when Peter snatched off his mic and stormed away from the set.
Hopefully, now that the two are no longer a pair, he can keep away. If he finds another reality-TV show to be on—a highly plausible scenario—good for him. I won't be watching it, but if Uncle Ben-face wants to trash-talk and throw brown rice on another forum, so be it. Just keep him away from RHOA, Cynthia and Todd Tucker, who is his heir apparent in the "This Negro really wants a fucking peach" aspect of this show.
For her next season, I hope Cynthia goes on some dates and meets less-cantankerous men. Don't loan this new man any money, either, Ms. Bailey. The Lord obviously doesn't find that to be the best option for you.
Shereé Whitfield
When Shereé got her peach back, I was so happy because if nothing else, Lady Whitfield is great for a good confessional drag and one-liner; see: "Hell to the nah to the nah-nah-nah." That said, though she has been a longtime favorite of mine, she was a bit of a letdown this season. As the self-appointed bone collector, Shereé spent most of her time this season telling everyone else's business. Much of that has to do with the fact that she doesn't seem to have as much going on.
What frustrates me about Shereé is that she let other cast members do the hustles she should've been jumped on. Like, how is Shereé in possession of that body and not out here training celebrities and releasing top-selling fitness videos? Instead, all we got was another damn season of her talking about Chateau Shereé. I don't know if Chateau Shereé is in her name or her mama's name; nor do I know if the property is done being saddled with liens. Honestly, I'd rather Chateau Shereé settle all of that shit, once and for all, so that she can move on from the storyline and spare us in the process. And with that peace of mind, maybe she'll find something more to talk about that's actually about her.
I'm rooting for you, Shereé, and your fine-ass son. Bring him back anytime you want. Not just because he's fine, but because he at least has a damn storyline based on himself. Learn from your offspring.
Kandi Burruss
As happy as I am that Xscape is finally back together, The Real Housewives of Atlanta has long suggested to me that Mrs. Burruss-Tucker bears a whole lot of responsibility for why it took so long for a proper reunion. Kandi is cool, but Kandi is also petty, and unlike a lot of you motherfuckers across social media, I don't like petty.
Here is what bugs me about Kandi: She lets everyone around her drag the fuck out of her fellow cast members, then feigns aloofness about why people feel she may have issues with them that she won't explicitly state herself unless it's already a fight happening.
I don't want to hear her employees take digs at other people. I don't want to see her mama dressed like Inspector Gadget in a scene as she minds someone else's business. None of those people have peaches; thus, why are we constantly subjected to them? Their thoughts and feelings about Kandi's business shouldn't matter so much, but they do because they tend to speak for Kandi.
Kandi should ask Tiny to join the show so that, at the very least, she can have a friend to hang out with. Like, how many more scenes must we see of Kandi's employees talking noise about her co-workers during their breaks?
Now, Kandi has been treated terribly this season, but that doesn't negate the fact that Todd talks too much. So does her mama. So does Don Juan, no Bishop. So does that other one whose name I can't recall but I won't Google because she ain't on this damn show and I shouldn't see her so damn much. Enough.
Porsha Williams
Bless Porsha's heart, but all too often, she speaks as if the inside of her brain consists of a bunch of sedimentary rocks. I didn't like her when she first joined the show because she was judgmental toward the other women while being married to that terrible man. After life humbled her and she put on a freakum dress, she tried to stop acting like she wasn't in a Trillville video years ago.
Read the rest at The Root.