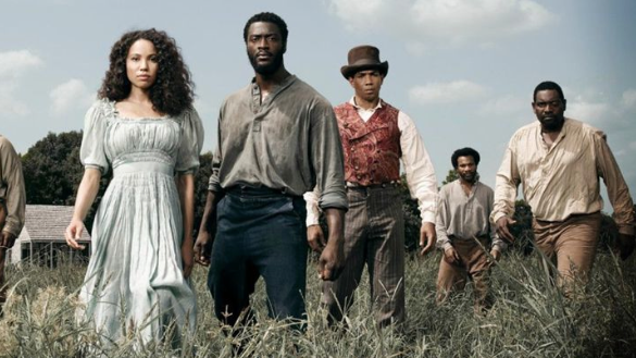 Even if it can boast of being a critical darling that's generated historic ratings for the network, Underground's fate at WGN America appears to be all but sealed.
According to the Hollywood Reporter
, the slave-centered drama, which wrapped its second season Wednesday, will have to find a new home amid a new strategy employed by its new owners, the Sinclair Group, which recently secured WGN America's owner, Tribune Media. Previously, WGN America had been trying to fancy itself as a new destination for high-quality dramas like
Underground
and
Outsiders
. Yet, in April, WGN America axed
Outsiders,
its top-rated drama, which subsequently sparked talk that
Underground
would likely go home to TV glory, too.
"It's a complete pause at WGN America," an apparent "agency insider" explained to the publication. "It's unclear if they'll still have scripted there. I had something being shopped there, and talks suddenly just stalled. They're figuring out what they're going to do and if they even continue on with scripted."
That means WGN America will likely now become home to reruns of procedural dramas already airing on seven damn networks and cheap imports. Hello, Canada. What up, Britain? Hey, hey, Czechoslovakia. Let WGN America air your shit stateside for that low-low.
All hope isn't lost for Underground fans, though. Its producer, Sony Pictures Television, has been trying to find a new home for the show, which reportedly carries a $5-million-per-episode cost. The show already has an exclusive deal to air episodes on Hulu, so here's hoping that Hulu will add the show to its roster of original programming. After all, Hulu could use more color in its programming slate.
For those who didn't take heed to my previous call to watch the show, stop depriving yourselves of greatness and dive in. The second season of Underground is superior to what was already an outstanding inaugural run. And while every cast member on the show is impressive in his or her respective role, Underground has given me a strong and ever-increasing affinity for the talents of Amirah Vann, who plays Miss Ernestine on the series.
While I'll join fellow viewers in prayers, happy thoughts and wishes upon a star that Underground gets a third season on a deserving network or medium like Hulu, there is another aspect to WGN America's new owners that ought to alarm anyone who worries about the role that big, conservative-leaning conglomerates have in our collective viewing habits.
Read the rest at The Root.