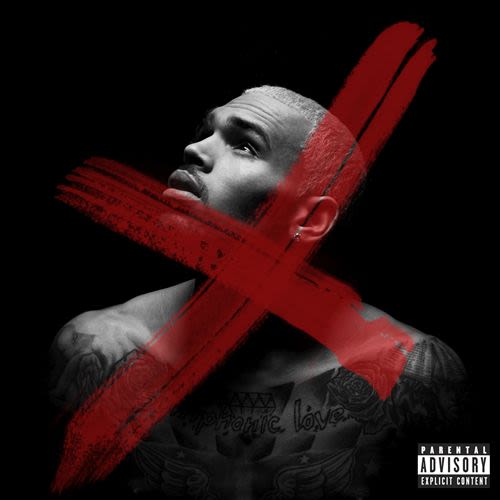 For so long, we've been subjected to talk of Chris Brown as the next Usher or Michael Jackson. And yet, Chris Brown's catalog does not include widely praised albums like Off The Wall,Confessions, or even a Don't Be Cruel. Brown is very much an artist of the day—someone able to churn out a radio hit on command (even in the midst of scandal)—though if you are touted as an act whose talent recalls the megastars of yore, eventually you're going to have to put out a product that speaks to that.
X, the Virginia native's six studio album, is not that album, but is certainly a step in the right direction. Based on recent interviews, Chris Brown appears more self-aware and ready for reflection, a quality that has carried over to his music. In the album's opener, the Diplo-produced title track boasts of lines like "I can make you a believer if I turn the nonsense down." There are more scornful remarks—"If you're only as good as the company you keep, then I'ma blame you for what they say about me"—but even that may speak to his truth: It's not always his fault.
The fair trade of blame carries over to his duet with Brandy, "Do Better." It feels like Christmas to hear Chris Brown sing, "I learn more and more each day. I don't know me. It's like I can't get out of my own way." Brandy sings that same line, only when she does, I think less about guilt and more along the lines of, "Why don't I hear Brandy on the radio anymore?" The last time I did, it was her Chris Brown-featuring single "Put It Down." The two have remarkable chemistry, so here's hoping Moesha makes a mental note of that as she reportedly works on new music.
In any event, on the solemn "Autumn Leaves," Brown examines a fleeting love with splendid gloominess and a level of sensitivity typically not associated with him (for good reason). And then there's the song's guest, Kendrick Lamar, who more or less speaks on Brown's behalf about redemption as the 25-year-old singer embarks on yet another attempt to move beyond his past mistakes in the public eye. What's interesting about that, though, is that if Chris Brown wanted people to see him as a more nuanced person, he would've done better releasing tracks like these as opposed to "Loyal."
No matter how catchy "Loyal" is, it's melodic misogyny drenched in ego and materialism. Chris has to get radio airplay, but there is a way to be contemporary without being so contemptuous. Enter "Drunk Texting," featuringJhené Aiko. It's a song you can bop to without shouts of how awful "these bitches" are. So much of today's R&B is soiled by the over-compensating machismo often found in rap. It all sounds angry, and while anger is a valid emotion, exhibiting too much of it has its limitations and consequences. Chris Brown should grasp this by now, so it's refreshing to see him switch his style of emoting.
Read the rest at Complex.