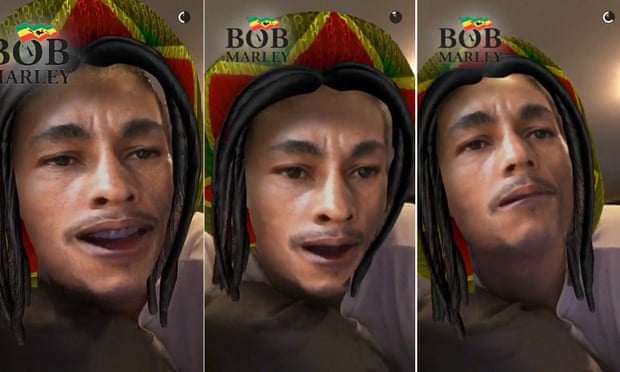 If there's any constant with respect to social media and the internet, it is that somebody is going to do something incredibly stupid and racially insensitive. Congratulations to Snapchat for being the latest guilty party.
In concert with marijuana aficionados' most cherished holiday, 4/20, the the social media company released a Bob Marley selfie filter that, when used, adds locs, a Rastafarian-style hat and darker skin to the user. Problem is, it didn't dawn on anyone over at the Snapchat offices that adding black skin to a white user's face might look a lot like blackface. No matter what Zoe Saldana's makeup artist in Nina or racist college party attendees might tell you, blackface is not really poppin' in the streets. Unsurprisingly, the internet rage machine quickly homed in on the deserving target.
That said, SnapChat did use Marley's face and name in partnership with the legendary singer-songwriter's estate. A Snapchat spokesperson told Forbes via email that the filter "gives people a new way to share their appreciation for Bob Marley and his music. Millions of Snapchatters have enjoyed Bob Marley's music, and we respect his life and achievements".
That permission doesn't make the feature less racist. Marley was the voice of poor people and black liberation in a space very few artists ever have access to, a distinction that deserves due respect. Whoever gave Snapchat permission to do this, it was an idea that shouldn't have been executed. And Bob Marley's estate can't be trusted to police this – it has a questionable history of licensing the late singer's likeness. (Full disclosure: I use Bob Marley-brand protein powder.)
That put the onus on Snapchat itself to make the decision, and it failed on multiple levels. At the very least, Snapchat could have restricted the filter to just the hat and the locs. The darkening of skin was not necessary. And for no one in that company – at least those with decision-making power – to understand why it would be an issue to invoke an inglorious history of minstrelsy speaks, yet again, to the ongoing problem with diversity in the tech industry.
Snapchat's record when it comes to race is questionable. In 2015, Recode's Walt Mossberg asked Snapchat CEO Evan Spiegel about the company's staff diversity. Spiegel replied,
Diversity, for us, is really closely tied to competency. We have such a diverse group of people using our products and services every day, that in order for us to make absolutely great products and services for that community, we need a really, really diverse group of people. And it's really that simple.
Spiegel added, however, that, they don't think of diversity in terms of percentages, arguing "it's not really cool to think if people as numbers."
Read The Guardian.