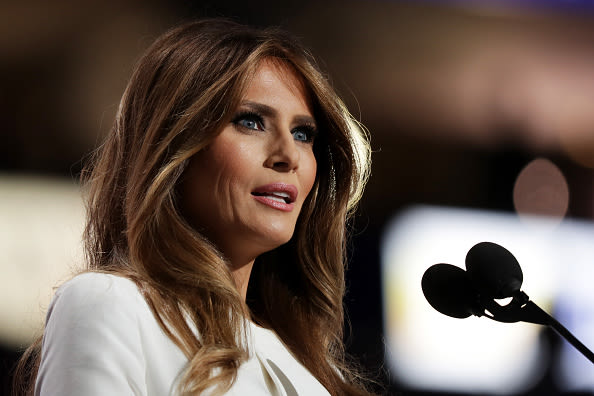 Understandably, it may be difficult for many at this moment in time to feel any empathy toward anyone with the last name Trump. The sole blame for that goes to the most famous one of the bunch, Republican presidential nominee Donald J. Trump, who was sadly bestowed with an irregular version of humanity at birth. A man who recently said that if his own daughter had been a victim of sexual harassment at work, the onus would be on her to find a new company or even a new career.
As vile a human being as Donald Trump is, and as after-school special as this may sound, the reality is: wrong is wrong. To be selective about when to exercise morality trivializes its very purpose. In the case of the New York Post publishing nude photos of Trump's wife Melania—which were taken more than 20 years ago—it is undoubtedly wrong. The unfortunate cover touting Melania's nudes is wrong. The article "Melania Trump like you've never seen her before" is wrong. The article entitled "Melania Trump's girl-on-girl photos from racy shoot revealed" is wrong. Even the other feature "Donald Trump is not upset Melania's nude photos surfaced" is wrong.
They are wrong because they seek to shame Melania. They are wrong because they reduce her to an object. They are wrong because they play off archaic ideas of nudity and sexuality and perpetuate elitist ideas of what kind of woman should be First Lady. They are wrong because they have absolutely nothing to do with a presidential election between candidates Donald J. Trump and Hillary Rodham Clinton.
Yet, some have noticeably maintained that they refuse to feel sorry for Melania because of how badly conservatives treated First Lady Michelle Obama. Many of these complaints have essentially danced around the sentiment, "They wouldn't defend her so I won't feel bad for her either."
Well, the they in question is the New York Post, a trashy tabloid that's right-leaning, routinely racist, consistently sexist, and typically terrible. A tabloid owned by Rupert Murdoch, the same person who owns FOX News. Perhaps some conservatives are speaking in support of Melania Trump in ways they never did for Michelle Obama, but ultimately, both women have now been ridiculed by conservative media outlets. That is a testament to the reality that no matter one's ideology, if you are a woman married to a politician, you may find yourself the victim of vile attacks. You would think all Murdoch-owned media outlets might tamper down on its sexist attacks of women in light of the Roger Ailes scandal, but old habits appear to die hard 'round those parts.
Read the rest at Complex.