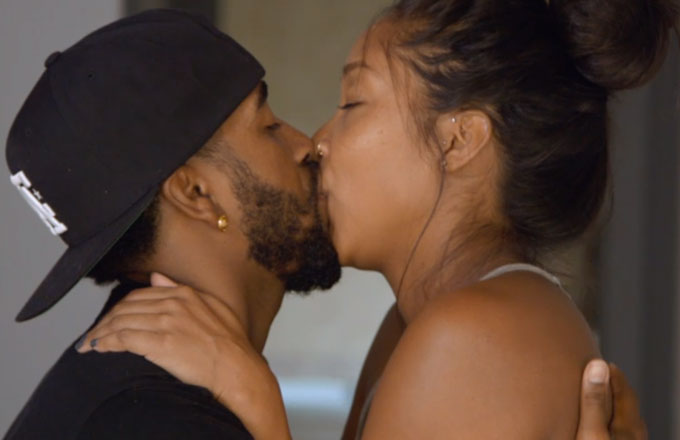 You know when you're feeling extremely chicken-deprived, so you rush to a Popeye's (or whatever franchise you prefer) to recharge only to discover that they ran out of white meat, red beans and rice, and the Cajun fries are cold? That was last night's episode of Love & Hip Hop Hollywood. Sure, I was fed, but not necessarily fulfilled.
It's probably a good thing this show is teetering towards the end of its season run as this gang of fools is starting to remind me of a DJ Mustard beat: repetitive, but, to be fair to DJ Mustard, I dance to that same beat each time. Not so much with last night's episode of my Southern California-centered telenovela.
The episode kicked off with Nikki being Nikki: bouncing around like she has fire ants running up and down her ass cheeks, babbling a bunch of nothing over a beef that only exists in her mind. After discovering that Masika would appear on a billboard for a club who rents its space from her parents, Nikki vowed to have Masika removed from the billboard. Unfortunately, Barbie Kardashian doesn't have as much power as she thinks she does, but her mom did reveal that once upon a time, Masika was arrested for allegedly stealing something. You would think given that Nikki was born into money and had a doctor create the face and body she wanted that by now she'd feel secure enough to not need such intel to feel like she one-upped Masika, but alas, she's on the waiting list for a self-esteem transplant.
In Nikki's mind, Masika's mugshot was ammo, only when she threw that in her face, Masika didn't give a solitary damn—explaining that she made a mistake as a teenager and that Nikki's spoiled, bratty ass could never understand the struggle. This happened after Teairra Mari organized a meeting of the mindless.
I love reality TV because it continues to present the false narrative that two people who barely know each other yet have beef can solve their TV-ready rift over alcoholic beverages. As if we don't know how futile an exercise this is. God bless, though.
In any event, Teairra Mari had her own back and forth with Hazel and it was all Hazel's fault. She was so thirsty to get in the mix with Teairra on camera that I wanted to down a liter of water in the name of her desperation. I'm surprised that future UFC champion Teairra Mari didn't roundhouse kick her.
Hazel wanted to know if Teairra was screwing Yung Berg. She is not. Thankfully Masika reminded Hazel of the following: Teairra is not fucking Berg, Masika is not fucking Berg, and Hazel isn't fucking Berg because Berg does not want her.
As a result of that truth serum, Hazel stormed off like a petulant child. Hazel, stop going out like this. No one should be debasing themselves for a man that small. But while we're on Hazel, let me just say she talks like a girl who learned Black slang from BET Uncut and local access TV.
Speaking of throwbacks, Ray J is now on probation and his daddy told him that he ought to clean up his act, which includes giving Teairra Mari the closure she desires. For someone who tries to make it seem as if Teairra was nothing more than a jump off, I find it interesting that she still regularly speaks to Ray J and Brandy's mama on the phone. I don't know about y'all, but if you're a cashew or almond for me, you're never speaking to my kinfolk.
While Ray J was meeting with his new anger management counselor, Soulja Boy was pressing pause on moving in with Nia and her child. Soulja Boy told Nia that he doesn't want her to move in because he fears for her safety. Yes, Soulja Boy doesn't feel like Nia is safe in his house. In fact, he wants that house to be his "man cave" so he can smoke and have sex with other women. Does that make any sense? Hell no.
Read the rest at Complex.