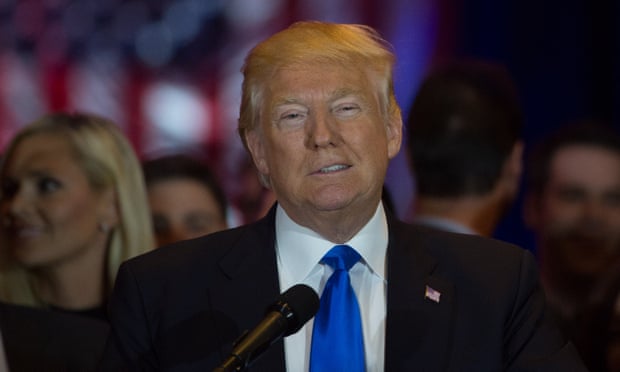 I would sooner have a threesome with David Duke and the ghost of Barry Goldwater than vote for Donald Trump, but there is something about his political ascension that I find somewhat inspiring.
Not the racism. Not the misogyny. And no, not the xenophobia. Trump's frontrunner status reminds me – an ambitious but not exactly patient person – that dreams can come true, just not necessarily when I say they should.
There is an old saying: "It's not the appointed time, but the anointed time." It's rooted in the Biblical passage, "For the revelation awaits an appointed time; it speaks of the end and will not prove false. Though it linger, wait for it; it will certainly come and will not delay." I have not been to church since the last Destiny's Child album, but that sentiment speaks to me, and Trump's trajectory this campaign season has served as a demonstration of that wise advice: wait for your time, however long that may be. Then seize it.
Trump, who won five more primaries on Tuesday, has been teasing a presidential run on and off since 1987. As in, Donald Trump's presidential ambitions on record are a year older than the man I hope one day helps me play out my Beyoncé happily-ever-after scenario (although if he does me dirty, he'll get the Lemonade treatment, too). I was impressed by Trump after reading Politico's February profile of the reality star and real estate mogul's plot-by-plot campaign to become a credible presidential contender.
Sure, Republican voters ought to know better than to be so enamored with a clownish political novice, but that's not his fault. The point is, timing is everything, and Trump was shrewd enough to finally run when he had an actual chance at winning.
There are other examples of people achieving success later in life. I've loved watching Wendy Williams, whom I used to listen to on the radio, go off to daytime, succeed immensely and broaden her brand farther than past naysayers – who wondered whether her unfiltered radio style would translate well in the daytime TV format – ever expected. Similarly, I like that Viola Davis is finally being treated as the exceptional talent that she is, leading a primetime network show as a black actor in her 40s after years of actively working in Hollywood, too often relegated to supporting roles.
But there is something about Donald Trump's political takeover that I find particularly motivating. He's been thinking about this for nearly three decades now, but minus the false start in 2000, when he considered running as part of the Reform party, he stuck more with his businesses and television career. And somehow, this novice with no experience gauged his moment, and he has managed to yap his way into a credible chance at becoming president. It's frightening, yes, but I still find it motivating for pursuing my own goals.
Read the rest at The Guardian.