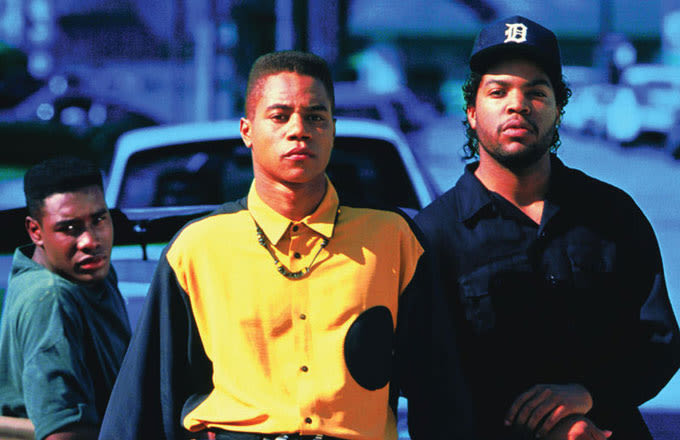 When Boyz n the Hood premiered 25 years ago in July 1991, it was met with a string of violence. At least 25 incidents were reported in more than 800 theaters nationwide. But even in the face of that violence, and the media's implications that Boyz was entirely to blame for it, director John Singleton never wavered from his movie's message. In what was called a "hastily called news conference," Singleton said the acts of violence were "indicative of the degeneration of American society, not a reflection of my film, which is about family, love and friendship." Singleton went on to fault a society "breeds illiteracy and economic deprivation… There's a whole generation of people who are disenfranchised."
As far as those who committed the violent acts, Singleton said, "There's a certain segment of the population that wants you to do what you're doing to each other. But we don't have time for that."
Boyz n the Hood
 brought a certain awareness to gang life that had been missing from film and media. So often is mainstream culture and society talking at black people; 
Boyz n the Hood
 was black folks speaking for themselves. The film examined race and gender—
notably black masculinity
—with complexity, which decades later, proves to be a difficult task for far too many.
Even before he became a celebrated and iconic film director, John Singleton had the confidence to call out bullshit when he saw it. While he was a film student at the University of Southern California, Singleton attended an advance screening for the movie Colors. During a post-screening Q&A, Singleton told one of the film's producers, "You advertise this movie like it's about my community, and it's really about two white cops. It's not about what's really going on there."
When Boyz n the Hood was released in theaters, I was barely six years old. I saw the film by way of my sister, who was often my access point into what was pivotal in culture at the time but not especially kid-friendly. So, much like The Geto Boys' "Mind Playing Tricks On Me," released around the same time as John Singleton's iconic film, I was consuming imagery and narratives that required a sort of thoughtfulness and maturation only time could provide.
That said, young or not, there were some things I could pick up on in those moments.
Despite him proving to be more of a chaotic figure in my life, I knew that like Tre Styles, I was still considered very fortunate to be a black boy child with my black male father in my life to others around me. I knew of people like Doughboy, who, after serving time in time in prison, quickly returned to old habits. In the coming years, I came across figures like Ricky, whose athletic prowess was their only real means of escaping an area that offered little much in the way of options of attaining real social mobility. And while my hood was not as chaotic as what was happening in South Central Los Angeles, I knew of drugs, gangs, and young black men losing their lives to gun violence (in some cases, only a few streets over from me) just like those characters.
Read the rest at Complex.