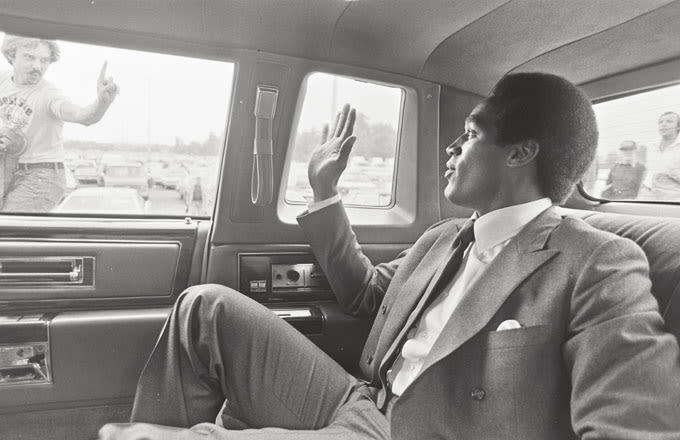 I have never heard a black person speak about O.J. Simpson with any reverence outside of J.J. Evans on an episode of Good Times. And while that show was populated by black faces, what came out of their mouths stemmed from the minds of the white writers in the room. Simpson was not Muhammad Ali, or Michael Jordan, Jim Brown, or hell, Warren Moon, if you're from Houston.
Even before Simpson's infamous and zeitgeist-shifting murder trial, he proved to be a polarizing figure among Black people because he didn't ever seem to associate himself with black people and blackness. Simpson was loved by white people in a way not shared by blacks—not unlike Jason Derulo's catalog. The term "transcending race" is a myth, but one can seek to distance themselves from their identity should they secure a certain amount of fame and wealth that might appear to remove some barriers largely attributed to racism.
Simpson got his wake up call during 
his murder trial
, and like a long-lost relative that only comes around when they need money and a good meal, his defense strategy was largely rooted in noting his race and how racism permeates our justice system. For many blacks who know this and are victims of it, it was the best way to win back our support and kinship, even if temporarily. So, while I may not have understood the gravity of the Simpson trial in its totality as a child, I did understand that feelings on Simpson's trial and its verdict were likely shaped by your race and experiences with racism.
Similarly, your interest in the trial verdict 20 years later is, too, likely fueled by your race and how experiences associated with it shift your worldview. That's why whenever I am asked as a writer and cultural critic why we are so obsessed with the O.J. Simpson trial two decades later, my first inclination is to ask who's we?
During that time and perhaps a few years after, I've witnessed black people discussing the trial in the context majorly of "He either did it or knows who did." And after he found himself arrested for and convicted of stealing sports memorabilia, with the sentiment, "This stupid motherfucker got off the first time and look at him." In terms of black pop culture, there was a line about Simpson's guilt in the first Barbershop, but beyond that, Simpson more or less faded with time with us.
He served as a symbol of a black man getting away with things we typically only see white folks getting away with. But the idea of him getting away with something he did greatly irritated white people, and it is why white people have primarily led the charge in revisiting the trial some 20 years later.
In a recent roundtable with The Hollywood Reporter, Nina Jacobson, a producer on FX's The People v. O.J. Simpson: American Crime Story had this to say about depicting the trial on TV: "I was scared of taking on O.J. overall, as a white person, knowing this was a polarizing case. We made every effort to have an inclusive team, but ultimately, the people who began the project, it started with a bunch of white people. And we know that the case means different things to different people."
Read the rest at Complex.