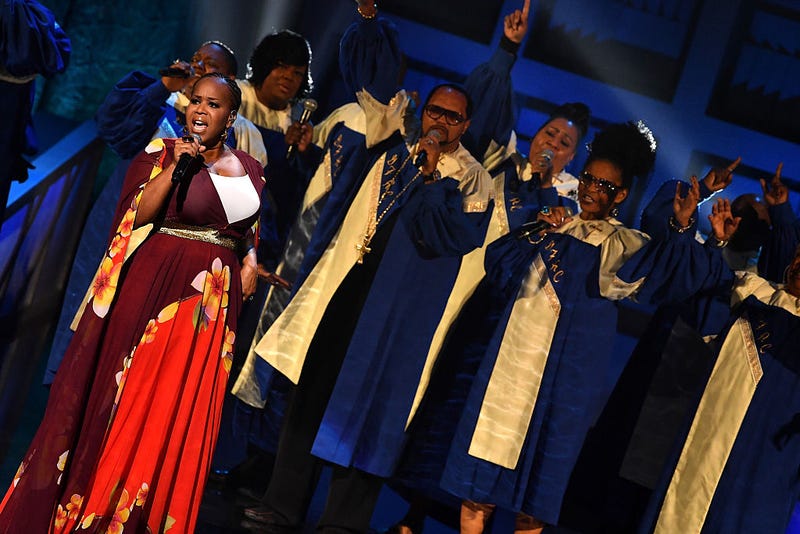 If I could charter our new President Hog's-Head-Cheese Hussein a flight anywhere, the destination would be obvious: the Seventh Circle of Hell. If his long list of sins against humanity before he was elected (insert laugh track) president did not confirm what an arrogant, selfish, greedy, cruel waste of the gift of life he is, then certainly, his actions mere days into his presidency have. So if 45 has already proved himself to be an inhumane tyrant in the making, why would anyone waste hundreds of words seeking to convince fans of the hidden virtues of a bigot?
As previously reported, Mean Mary Tina Campbell of Mary Mary wrote an open letter about the new president that advocates him in ways that a man who associates with white supremacists is undeserving of. Generally speaking, open letters are equal parts inane and irritating. However, Campbell did ask for people to "read my letter below with an open mind."
As a recovering Catholic who was once recruited for the priesthood (coulda been Yung Pope, but sex, no shade), I obliged.
Despite the unfortunate reality that we live in a country which is divided by our differences, misguided by ignorance and fear, obsessed with power, and overcome with greed, I still choose to believe that better days are coming. I believe that, although America and all of its leaders are far from perfect, our spiritual guidance and covering that has been granted from our initial decision to be "One nation under God," is what has established us as the great nation that we are.
Let me stop you right there, Heil Mary.
It's fine to believe, despite the inept would-be authoritarian dismantling democracy day by day, that brighter days lie ahead, given that you've got God and a cushier tax bracket than most, but what is this nonsense about how "'One Nation under God'" is "what has established us as the great nation that we are"? Beloved, you are black. This same nation that professed to extol the virtues of God was built on the backs of your enslaved ancestors and has systematically oppressed your kind since its inception. You can luh God like your sister, but no Negroes with the good sense God gave them should pretend that this nation hasn't long bastardized religion.
I understand that Mr. Donald Trump is our new president, not our God, so as a citizen I choose to have a sensible expectation of him, accompanied by much prayer for him, and a complete dependency on God to work through him, as well as the others that are in office, to secure the welfare of this nation. I choose to opt out of fear of the unknown but rather opt in to hopeful expectation because if God is for us nothing can successfully stand against us.
I mean, if you're not traveling from select countries on the Muslim ban, I suppose you can walk without fear. You can't get an amen for this, but at least you are praying for the president. His punk ass needs it.
I believe that understanding and compassion is absolutely necessary for the progress of all people. So, although I don't always understand or agree with Mr. Donald Trump's politics, perspective, and approach, I believe that the same God that created all of us has deposited greatness inside of him that goes far beyond what many of us have seen and what many of us could imagine. I believe that God can do exceeding abundantly above all that we can ask or think, according to the power that works in us. I believe that the power that works in us is our ability to love, and unify, and humble ourselves, and forgive, and hope, and pray, and educate ourselves, and apply wisdom and hard work to knowledge. I choose to believe that that same power that comes from Almighty God is at work in Mr. Donald Trump, and it will be used for the greater good of this nation and its people.
Whoa. Whoa. Whoa. Did Campbell say, "I believe that the same God that created all of us has deposited greatness inside of him that goes far beyond what many of us have seen and what many of us could imagine"? This mediocre white man has built a career off of nepotism, good tax attorneys, bankruptcy laws, not paying people for their services and being a fame whore. He is the irregular sweater of humanity. I rebuke this.
It's much easier to assume that someone is in power because God "chose" him than to wrestle with the reality that evil exists and there are instances where one must call a thing a thing—and then fight it. Enter the likes of the Rev. William Barber, who consistently fights for the very Christian principles 45 actively works against. Barber has routinely spoken out against the racism of 45 and the party whose racist rhetoric paved the way for him. He has done so with the assistance of religious people of varying faiths.
Read the rest at The Root.