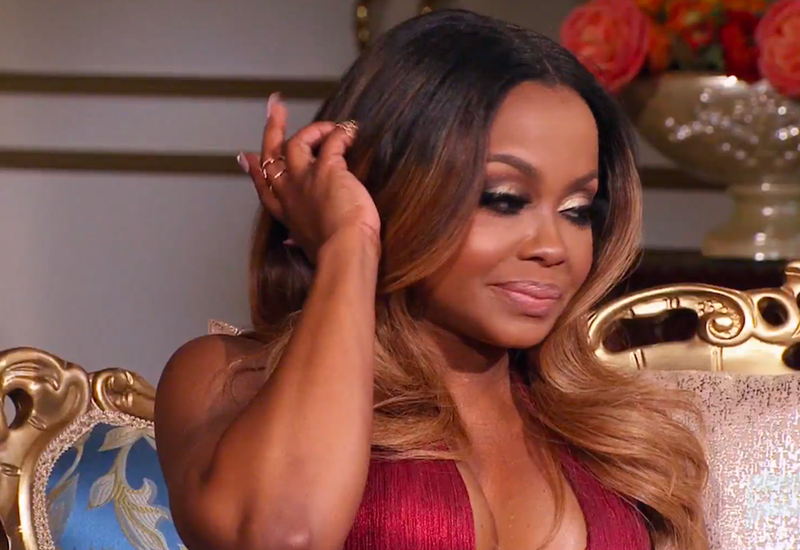 Toward the end of the four-part The Real Housewives of Atlanta reunion, host Andy Cohen tried to help Phaedra Parks save herself from herself.
Phaedra—who had been outed by cast member Porsha Williams as the source of a rumor that another cast member, Kandi Burruss, had once contemplated drugging Williams and taking her home, along with Burruss' husband, Todd, for a felonious act of fornication—sat stoically as everyone else around her cried in disgust at her actions. Parks offered nothing more than another half-assed apology that pleased no one and permanently soiled her standing with Cohen, her castmates and the public watching at home.
Parks refused to truly own how trifling, how vile and how pathetic she behaved. She wouldn't say that she might have been angry with her former friend Burruss and her husband for embarrassing her by way of continuing a friendship with her ex, the scamming Apollo Nida, and that maybe, just maybe, she wanted to get back at them, and her attempts at doing so got way out of hand.
Like, one imagines that Parks watched, with understandable fury, Burruss' mom, Joyce, dressed like Inspector Gadget, filming a scene about consulting an attorney regarding Parks' divorce proceedings. It wouldn't have excused Joyce's actions, but at the very least, Parks could have sized up her gossipmongering as hurt people hurt people. Nope. She just sat there, looking stupid, when "everybody knows" Ms. Parks is anything but.
Since then, Parks has reportedly been fired from the show after violating the "morality clause." Yet it is also now being reported that the rumor Parks spoke of was not her invention. Even so, regardless of whether or not production did lend a hand in starting a false rumor centered on sexual assault, Parks is ultimately responsible for going with it.
However, when you read Parks' recent interview with People magazine, you are reminded of how image conscious the attorney-turned-reality star is. Likewise, you are reaffirmed in your feelings that Phaedra Parks is so full of shit.
On the ominous question of Parks' reality-TV legacy, she answered:
"I really want to show that you can be well-educated, you can be a professional and you can solve conflicts without being ratchet. You can be a lady, you can have dignity in your dealings—whether it be personal or professional. I think sometimes as black women, we're stereotyped in categories of being overly sexualized, of being the aggressive black woman and of being this ratchet sort of character that doesn't know how to behave herself."
Parks went on to add:
"I want people to know that there is definitely a real kind of black woman who conducts herself in a certain way. She's not out here screaming and cursing and acting crazy. She does things differently, and people love her for it."
Therein lies what's always been so frustrating about Parks: She is more concerned about appearances than the truth. For her, representation matters more than merely being yourself. It's exactly why so many have long referred to her as "Fakedra."
Parks buys into the notion of what a "respectable" black person, and specifically what a "dignified" black woman, looks like. Although battling stereotypes is important, it should not come at the expense of one's truth. So while it's great that Parks did bring more serious matters to the show throughout her run, she forgets one important thing: We can see her.
Read the rest at The Root.