Alright folks this is pretty much the blog equivalent of a quickie, but I need people to chime in.
Cue the video:
Now compare and contrast with: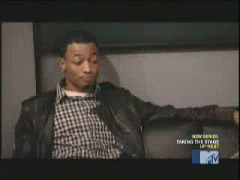 And go.
Chances are if you agree with Renaldo, I'll hate you to the core. No pressure, though. Just an FYI.
P.S. It's my blog and I'll partake in narcissism if I want to. Be self-centered if I want to. Try to get you to indulge me if I want to. You would be self-involved, too, if a Negro said you looked like Que.