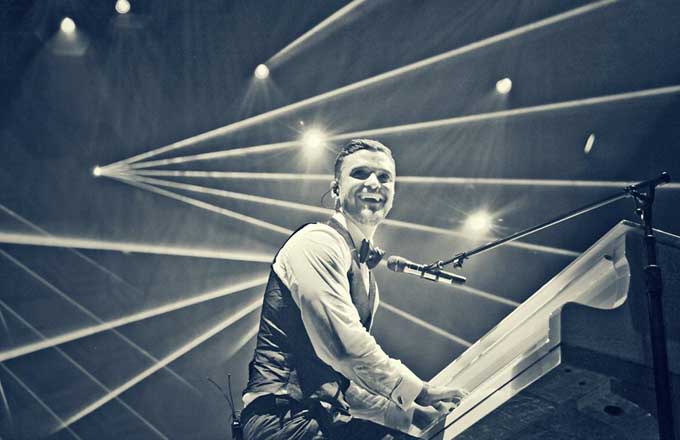 Bless Justin Timberlake's vanilla-flavored heart. In the year of LEMONADE, he's only now realizing that it's a new day — a time in which the things he says that the kids would describe as "problematic" won't just float away unquestioned.
To wit, moments after Timberlake said he was "#Inspired" by remarks made by actor/activist Jesse Williams celebrating blackness and decrying cultural appropriation at this year's BET Awards, a few Twitter users felt similarly inspired to inform the pop singer that they had not forgotten his trifling past. One tweet yielded an actual response from the *NSYNC heartthrob turned pop star: "So does this mean you're going to stop appropriating our music and culture? And apologize to Janet too."
Timberlake 
responded
, though all he did was confirm that he likely missed key points made by Williams (while coming very close to echoing "all lives matter" rhetoric): "Oh, you sweet soul. The more you realize that we are the same, the more we can have a conversation. Bye."
Then came more eye-roll-inducing tweets. Like the one where he plays at being the victim: "I feel misunderstood. I responded to a specific tweet that wasn't meant to be a general response. I shouldn't have responded anyway…"
Or the one where he opts for a patronizing tone rather than a sincere display of humility: "I forget this forum sometimes… I was truly inspired by @iJesseWilliams speech because I really do feel that we are all one… A human race." (Again with the "all lives" mindset.)
And of course the one where he offers a weak apology: "I apologize to anyone that felt I was out of turn. I have nothing but LOVE FOR YOU AND ALL OF US. –JT"
As mighty white as all this sounds, I don't believe cultural appropriation is the fundamental issue here. A Southern white boy from Memphis being into R&B isn't surprising or remarkable in any meaningful way. The same goes for any child born in the 1980s who was inspired by the two of the biggest artists of that era: Michael Jackson and Prince. The white boy making music inspired by black art isn't what's wrong with Timberlake. It has little to do with why he enrages many of us at times.
What's grating about Timberlake and white entertainers like him is that, for all their fandom as it relates to black culture, they don't seem to give much of a damn about the black people who created that culture and continue to keep it alive and fresh. And, to make matters worse, these entertainers typically benefit and profit from our culture more than we ever do. The problem with people like Timberlake is that they will use their white feet and dance to Michael Jackson-indebted steps only to run back to their ivory towers when convenient.
In Timberlake's case, this would be February 2004, in the hours that followed his Super Bowl performance with Janet Jackson—the one in which Timberlake pulled at her costume to reveal her breast on live TV. Though both apologized, Timberlake did so as if he had absolutely no idea what was intended to happen during that set—opting instead to place most of the onus on Jackson.
Jackson told Oprah Winfrey that she felt Timberlake left her hanging "to a certain degree." Only years later would Timberlake admit to this in interview with Entertainment Weekly, saying, "I wish I had supported Janet more. I am not sorry I apologized, but I wish I had been there more for Janet."
Timberlake used Jackson's celebrity to increase his own, and then used his privilege as a white man to let the black woman take the fall for an incident that involved both of them. Many of us will never forget or forgive what he did to Janet Jackson because it's a reminder of how little capital black people have in this country—even if you're as popular and as influential a star as Janet Damita Jo Jackson.
Read the rest at Complex.