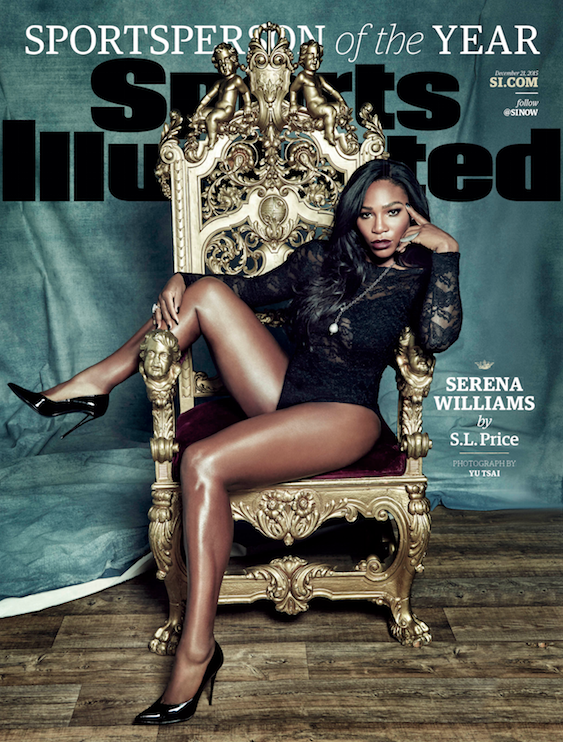 Serena Williams is many things, but first and foremost, one of the greatest athletes of all-time. If that point isn't clear enough, that means male or female, black or white, Serena is one of the best athletes ever. Needless to say, for many, her recognition by Sports Illustrated as sportsperson of the year feels nice albeit quite late on arrival. Nonetheless, that hasn't stopped some people from crying foul – notably in the defense of a damn horse.
Some – majorly white, male, and seemingly bored out of their minds online – have argued that American Pharoah, horse racing's first Triple Crown winner in 37 years deserves the honor. The horse winning the magazine's readers' poll for the award fuels their stance. There are so many problems with this line of thinking.
Let me count the ways.
For starters, the award is named sportsperson of the year. A horse is not a person. I'm sure, #AllMammalsMatter in select cases, but not this one. Already, sites like SBNation have mocked these people rallying for the humanity of a horse. It's worth a chuckle, but you instantly cringe once you realize that to people like this, the value of an animal will also matter more than the life let alone the accomplishments of a Black person.
Meanwhile, Sports Illustrated's Christian Stone was quite clear about Williams' selection, writing: "Sports Illustrated honors her dominance in 2015, when she won 53 of her 56 matches, three of the four Grand Slam events and built the most yawning ranking points gap between her and her closest competitor in tennis history. We honor her, too, for a career of excellence, her stranglehold on the game's No. 1 ranking and her 21 Grand Slam titles, a total that has her on the brink of Steffi Graf's Open Era Slam record, which Williams will likely eclipse by mid-summer."
No offense to the horse, but this is the part where everyone – horse included – ought to bow down.
But if there were not enough validation, Stone added a more honest omission about the unique barriers Williams face yet manages to excel despite them: "We are honoring Serena Williams too for reasons that hang in the grayer, less comfortable ether, where issues such as race and femininity collide with the games. Race was used as a cudgel against Williams at Indian Wells in 2001, and she returned the blow with a 14-year self-exile from the tournament. She returned to Indian Wells in '15, a conciliator seeking to raise the level of discourse about hard questions, the hardest ones, really."
Things beyond her control have long affected Williams: namely her race and gender. Even in the context of an honor she deserved (and again, deserved earlier than when she actually got it), racial politics came into play. Enter the Los Angeles Times, who published a story validating the opinions of morons who have ranked a horse higher than Serena Williams.
Read the rest at VH1.