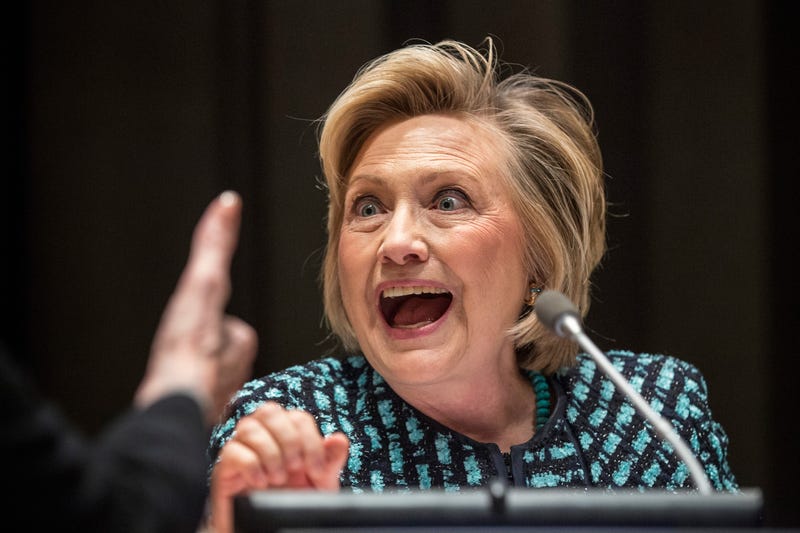 For five months, Hillary Clinton stayed relatively quiet. If I'd lost the presidential election to the former host of The Apprentice, I would have gone to the woods, too. Yet, to some, Clinton's silence and self-imposed exile were a disappointment—even if it was only mere weeks after the inauguration. At the time, I wrote that if I were Clinton and, by extension, former President Barack Obama, I would put the nation temporarily on "do not answer."
As I noted then specifically with respect to Clinton: "While we are undeniably living in unique and increasingly dire circumstances, not only do I question the push for Clinton to more aggressively speak out against the antics of this amateurish administration, but I also worry about its ineffectiveness this early."
We already had a sore winner who was constantly invoking the election he won. We didn't need the person he defeated egging him on in the infancy of his presidency. Besides, typically, unless a defeated presidential candidate maintains public office, he or she is supposed to wait for whatever the political equivalent of Unsung is.
However, now that we are more than 100 days into 45's first term—which seems to be permanently set at basic bitch level—not only is it the perfect time for Clinton to launch her "Bitch, I Told You So" tour, but she should keep adding dates.
On Tuesday, Clinton did an interview with CNN correspondent Christiane Amanpour during a Women for Women International luncheon. While she acknowledged that "it wasn't a perfect campaign" and that she did make mistakes, she noted, "I was on the way to winning until a few things happened."
A few of those things would include Russian meddling in the election and, more pointedly, the controversial letter FBI Director James Comey released Oct. 28. Yes, Clinton is still wrong for not campaigning in the states Democrats didn't win, and of course, she was a fool not to rally enough of "the blacks," who usually save the Democrats asses. Nevertheless, analysis by FiveThirtyEight's Nate Silver shows that Comey's announcement that the FBI was reopening the investigation into her private email server affected her chances.
On Wednesday, Comey defended that action while speaking before the Senate.
"It makes me mildly nauseous to think that we might have had some impact on the election," he explained. "But honestly, it wouldn't change the decision." I don't like wishing ill on people, but if Comey leaves the next seven Taco Tuesdays with problems for each Wednesday and Thursday thereafter, oh well. Why should we all suffer alone?
Speaking of, one of Orange Moon's greatest election-related insecurities is that he grossly lost the popular vote. "I did win 3 million more votes than my opponent," Clinton recalled. When asked if her talking that cash-money shit would eventually draw a pointed response from 45 on Twitter, Clinton responded with, "Better that than interfering in foreign affairs."
And like a moth to a flame burned by the fire, 45—a deeply insecure, narcissistic, misogynistic asshole who still cannot handle being less popular than a girl—took to Twitter to complain.
Read the rest at The Root.