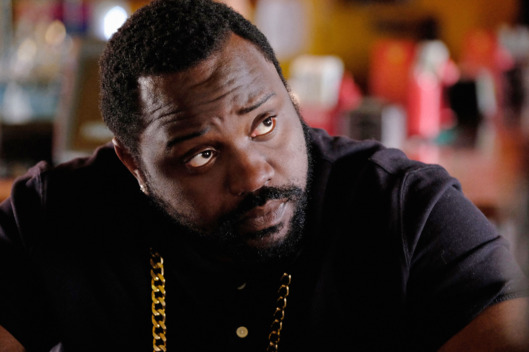 Earn is the kind of person who stresses everyone the hell out. Yet for all his faults, you still hope this fool figures himself out. That clearly won't happen in "Streets on Lock," given how the episode begins: Earn and his rapping cousin are in jail, mere hours after he got Paper Boi's single on the radio.
While they're sitting there, Earn turns to Alfred and says, "I've never been arrested before." And he wasn't even arrested for fighting the struggle, so it's a big ol' L all around. I'm not sure what I'd do if I got locked up in similar fashion. I'd probably sing Ja Rule's "I Cry" — in my head, for safety reasons, obviously.
In another #poordat situation for Earn, Alfred is let out of jail faster than his kinfolk because someone handled his paperwork for him. When Alfred tries to see about bailing Earn out and inquires about why exactly he's been arrested, a very matter-of-fact black women quips, "What's the charge? Nigga, this ain't a movie. You better wait until he's in the system."
His ass sure waits, too.
I love Atlanta's unabashed use of nigga. Maybe Paul Mooney no longer believes saying it makes his teeth white, but many of us haven't stopped using it colloquially. Some will understand it's the culture, others will feign confusion and whine about double standards. I'll just be over here saying na-na-na-na-na-na, white people still can't say it.
You hear it again when Alfred makes his way out of jail, after a thirsty cop approaches him — well, Paper Boi — and asks for a picture. At one point, he asks, "You listen to Gucci Mane? Man, I locked that nigga up." How many Atlanta-area police officers can make similar boasts? To get a good estimate, multiply the number of lies Donald Trump has told this month by half the number of headlines featuring "Hillary Clinton" and "email." The answer is too many damn people.
That lust for fame follows Alfred for the rest of his day. Fresh out of jail, he and his hilarious friend Darius go to grab food, and he is approached by a very enthusiastic waiter who informs him that he is "the nigga." Why? Well, "I heard about that shoot-out you had on Twitter. You're one of the last real rappers, man." The waiter then goes to speak about being an old-school cat who listens to Mobb Deep and dead rappers like the Notorious B.I.G. and 2Pac. Not surprisingly, he also slams "singing-ass rappers" like Fetty Wap before noting it's "good to see a rapper blow a nigga."
The end result is that Alfred and Darius don't just get lemon-pepper wings, but WET lemon-pepper wings with the sauce. Now, lemon-pepper wings are already a cherished meal in certain sects of the community, but with the sauce, too? Oh, you poppin'.
Before leaving, the waiter warns Alfred, "Don't let me down. If you let me down, I don't know what I'd do." You'll grow up and get over it is what you'll do. What a picturesque visual encapsulation of the old heads: They cling to bygone days of hip-hop while bitching about how much they hate Drake, Kanye West, and artists like Childish Gambino all day long.
Of course, the scene is not exactly subtle commentary. I'm typically not a fan of shows being so overt, though in this instance, it's not a weakness. Thank God this one doesn't practice Tyler Perry–style moralism, in which you are beaten over the head about the way you ought to be thinking. And I suppose I'm a bit biased because I absolutely agree with the point being made. Atlanta wants to be sure that everyone knows how violence and a specific strain of masculinity can benefit rappers like Paper Boi when they're bursting onto the scene. The same goes for another scene where Alfred sees a little boy with a toy gun, emulating the parking-lot shooting so he can be just like him.
Read the rest at Vulture.